TRON
(1982)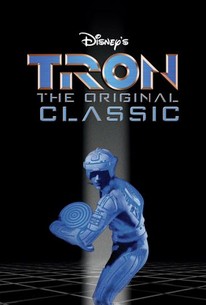 TOMATOMETER
AUDIENCE SCORE
Critic Consensus: Though perhaps not as strong dramatically as it is technologically, TRON is an original and visually stunning piece of science fiction that represents a landmark work in the history of computer animation.
Movie Info
A computer programmer is trapped in the game he's creating.
News & Interviews for TRON
Audience Reviews for TRON
½
The dazzling visuals may have been a unique experience when this film came out, boasting highly advanced computerized effects for the 1980s, but nothing saves the script from being a ridiculous, tiresome mess with an uninteresting shred of story that is painful to sit through.
Carlos Magalhães
Super Reviewer
A gifted but rebellious computer programmer is digitised and sent into the heart of a computer system where software is personified and exists within a landscape ruled with an iron fist by a dictator called the Master Control Program. Tron was Disney's attempt to jump on the bandwagon of cinematic science fiction made popular by Star Wars and the burgeoning interest in computers and video games. It borrows heavily from contemporary films including Flash Gordon and Star Trek as well as George Lucas' franchise but its real draw at the time was its cutting edge special effects that represented the digital landscape. As you can imagine, they have dated a lot since its release but beauty is of course in the eye of the beholder, so to some they will be old and cheesy but to others the height of retro chic. I personally have always had a soft spot for vector graphics and so quite like the look of the film still, despite the quality of the green screening which inevitably looks very shoddy by today's standards. Some of the dialogue is also very corny in the way that ageing script writers trying to be "down with the kids" always is and the action is a little pedestrian, but the premise really captures the imagination and its endearingly naive approach conjures up a lot of nostalgia in the way a lot of 80s sci-fi films do. Plus it clearly had an impact on the Wachowskis who borrowed a lot of its ideas for The Matrix.
I loved this movie when I was a kid in the early 1980s. Having seen it again as an adult, it's pretty stupid. But I guess it captures the wonder and imagination abounding when personal computing and video games were new. Interesting as an historical time capsule.
Christian C
Super Reviewer
TRON Quotes
| | |
| --- | --- |
| Ed Dillinger/Sark: | You should have joined me! We would've made a great team! |
| | |
| --- | --- |
| Kevin Flynn/Clu: | Games? You want games, I'll give you games. |
| | |
| --- | --- |
| Lora/Yori: | Leave me alone, we've failed. |
| Kevin Flynn/Clu: | We're only gonna fail if we give up. |
| | |
| --- | --- |
| Ed Dillinger/Sark: | Finish the game! |
| Kevin Flynn/Clu: | No! |
| Ed Dillinger/Sark: | Kill him! |