Tsotsi (Thug)
(2006)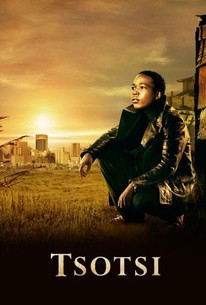 Movie Info
An amoral teenager develops an unexpected paternal side in this powerful drama from South Africa. Tsotsi (Presley Chweneyagae) is the street name used by a young Johannesburg delinquent who has taken to a life of crime in order to support himself. Tsotsi comes from a blighted upbringing -- his mother died slowly from AIDS-related illnesses, and his father was torturously abusive -- and he has developed a talent for violence borne of necessity as well as taking strange pleasure in hurting other people. One evening, Tsotsi shoots a woman while stealing her car, and only later discovers that her infant son is in the back seat. Uncertain of what to do with the baby, Tsotsi takes the boy home and tries to care for it -- going so far as to force Miriam (Terry Pheto), a single mother living nearby, to nurse the baby. With time, Tsotsi learns the basics of child care, and the presence of the baby awakens a sense of humanity in him that life on the street had stripped away. Tsotsi was adapted from a novel by the award-winning South African writer Athol Fugard.
News & Interviews for Tsotsi (Thug)
Critic Reviews for Tsotsi (Thug)
Audience Reviews for Tsotsi (Thug)
A hard-hearted street thug accidentally kidnaps a baby and must care for him. A basic morality tale, Tsotsi hits all the right notes in a maudlin song. The healing power of love, the innocence of childhood, the permanence/importance of parental love -- all the usual themes are stuffed in this film. Added to this is the simplistic explanation for Tsotsi's behavior, his abandonment by he parents. Overall, it's all a cliche, but it's a well done cliche.
Jim Hunter
Super Reviewer
This essentially simple story becomes a genuinely astounding film: bolstered by raw and engaging performances, thoughtfully directed and filmed. Utterly captivating.
Louis Rogers
Super Reviewer
This is an alright movie to be honest its completely in subtitles but dont et that put you of! If i compared it to anothr movie it would be similar to kidulthood/adulthood just that its based in south africa jonaahburg, but along te same line its just about a poor group of lads who have no way of iving apart from resulting to crime and this one day tsotsi steals a car which turns ut to have a baby in the back and he must do the right thing so it leads him on a journey of rights and wrongs and we see th horrible unbringing hes had in life and its quite a captivating heartwarming movie and its worth a watch though i didnt particualy like the ending but apart from that yu get to see what its like for poor people in south africa an troubles life gives tem really worth a watch!
Film Crazy
Super Reviewer
Tsotsi (Thug) Quotes
There are no approved quotes yet for this movie.