Turks Fruit (Turkish Delight) (The Sensualist) (Wild Intent)
(1973)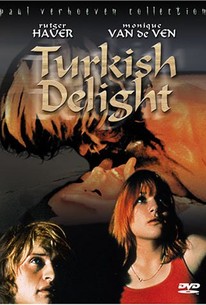 Turks Fruit (Turkish Delight) (The Sensualist) (Wild Intent) Photos
Movie Info
In Paul Verhoeven's sexual psychodrama Turkish Delight -- an adaptation of Jan Wolkers' best-selling erotic novel -- Rutger Hauer (Soldier of Orange) is Eric, an Amsterdam artist whose paintings and sculptures are all perverse. He spends his days wandering around the city and picking up young female lovers -- whom he beds and then tosses aside mercilessly -- and keeps an extensive scrapbook of mementos from his bedmates. Eric is deeply haunted, however, by a dysfunctional past relationship. He only fell in love on one occasion: with Olga (Verhoeven regular Monique Van de Ven), a mentally unstable woman dying of a brain tumor. The film received a Best Foreign Language Film Oscar nomination in 1973 and became one of the most lucrative motion pictures ever generated by the Dutch film industry. ~ Nathan Southern, Rovi
Critic Reviews for Turks Fruit (Turkish Delight) (The Sensualist) (Wild Intent)
Audience Reviews for Turks Fruit (Turkish Delight) (The Sensualist) (Wild Intent)
½
The film is a bit irregular but Verhoeven makes up for that with a lot of conviction, energy and pathos (helped by the dynamic editing), creating an adorable couple of characters who grow on us as we witness their oddball relationship develop and break.
Carlos Magalhães
Super Reviewer
Deep below its raw surface, of the hedonistic wanderings of our flawed couple, lies a poignant study of the frailty of humanity, how tender and finite life is. The constant shift of tones (perverse, nauseating or shocking things can easily turn warm and affectionate) are the testament of a very capable filmmaker on charge, Verhoeven succeeds by working his camera like a magnifying glass for his character's emotions, and the tougher and uglier, the better, his philosophy of love and life might be that anything that ends, always ends up unwell. A lively, overtly sexual and satirical tragedy.
Pierluigi Puccini
Super Reviewer
The cult following of "Turkish Delight" is somewhat puzzling -- beyond the intrigue of seeing Rutger Hauer and Paul Verhoeven at the start of their careers, it's not an especially worthwhile film. The romance-meets-disease plot is practically formula, if you recall pop trends of early-'70s cinema. It's just complicated with a dizzying number of quirky, vulgar details. Hauer stars as Erik Vonk, a handsome sculptor who's apparently an irresistible lover. He enters the film as a depraved, callous womanizer who seduces his prey and brutally discards them like used condoms. He even fantasizes about committing murder. Then the story flashes back two years, and we discover why he's so twisted. In happier days, he hitched a ride with a redhead named Olga (Monique Van De Ven, in her acting debut) and instantly found a kindred spirit. They became a wild-child couple, full of rash mood swings and abrasive, non-conformist behavior. Olga's family disapproved of Erik, but this only made the two closer. They married, split up and finally reunited. But tragedy cut short their hard-won happiness. The trouble is, we never really care because the two are so relentlessly coarse and juvenile. The plot outline is simple enough, but the parade of distasteful images which Verhoeven manages to squeeze into the film is just flabbergasting. Let's see...there's masturbation, rape, spewed vomit, a prosthetic breast, a penis caught in a zipper, insect larvae, scat talk, sculpted maggots, pubic clippings, pornographic drawings, rotting food, a jeep hitting a seagull, a dog defecating, another dog licking up amniotic liquid, a bloody car accident, a dying man's dripping bowels, a toilet bowl of discolored feces, a horse's eye found in dinner stew and a female lead who can scarcely get through a scene without flashing underwear or an intimate body part. Did I forget anything? Oh, right -- revolting table manners. Incredible. On the other hand, there are two brilliantly original images: an automobile-sex scene where squirting wiper fluid signals Erik's orgasm, and a bedroom scene where a woman discovers she can naturally rock her baby carriage just by holding its handle during intercourse. There's also a wonderful sand sculpture of an oversized nude woman. Is that enough to compensate? Factor in a memorable soundtrack with the perfect aura of swanky sleaze (harmonica by Toots Thielemans), and perhaps the scales come close to balancing out.
Eric Broome
Super Reviewer
Turks Fruit (Turkish Delight) (The Sensualist) (Wild Intent) Quotes
There are no approved quotes yet for this movie.