Twelve and Holding
(2006)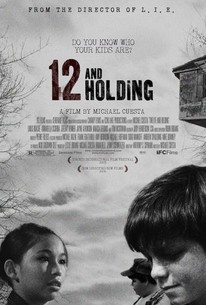 TOMATOMETER
AUDIENCE SCORE
Critic Consensus: This shocking pre-teen drama manages, through realistic performances and a sense of empathy, to avoid exploitation and instead deliver something honest and haunting.
Twelve and Holding Photos
Movie Info
A trio of troubled suburbanites attempts to come to grips with the personal issues that surface following the tragic death of one of their own in this introspective adolescent drama from L.I.E. screenwriter/director (Michael Cuesta). In the months following the death of Jacob's (Conor Donovan) likeable, athletic twin brother, Rudy (also Donovan), Jacob and friends Malee (Zoe Weizenbaum) and Leonard (Jesse Camacho) struggle to make sense of the unfortunate youth's fiery demise at the hands of local bullies. As Jacob quickly loses himself to revenge fantasies and sets into motion a series of destructive plans designed to destroy the kids responsible for his brother's death, Malee focuses her attention on a dejected patient of her psychotherapist mother, and obese Leonard struggles about weight and health issues with his equally obese mother.
People Who Like this movie also like
News & Interviews for Twelve and Holding
Critic Reviews for Twelve and Holding
Audience Reviews for Twelve and Holding
½
Great Indie drama. Very heartfelt, feel good kind of movie.
Cynthia S.
Super Reviewer
Rudy: Our birthday comes once a year and you ask for a hockey mask. You don't even play.  "Do You Know Who Your Kids Are?" Twelve and Holding reminds me a lot of another Indie movie named George Washington. Both are great films about children's loss of innocence surrounding a death of their friend. In Twelve and Holding, we meet four friends. Two of which are twin brothers named Jacob and Rudy. The other two are Malee and Leonard. Some bullies of the four friends go to burn down their tree house, unaware that they are in it. Rudy dies, and the three other children are left, no longer really children, but not adults either.Twelve and Holding is a sad and hypnotic film. It's also extremely engrossing and compelling. The performances by all the young children are solid, and Jeremy Renner is as good here, as he's ever been.  The movie isn't as hard to watch as you would think, and if I described some of the actions of the kids after the death of their friend, it would make you think it would be even harder to watch. The writer and director of Twelve and Holding make the movie a lot easier to watch. They don't go over the top in creating situations that are unrealistic or unwatchable. A few times I thought they were going to take it to far, but they restrained and made the movie all the better because of that restraint.  Twelve and Holding probably isn't going to be a movie you fall in love with. The story is too devastating to make it a movie that you want to watch again and again. What it is though, is a good Indie drama about kids that are supposed to be kids, but can't. Situations in life dictate change, and for these kids that change came on earlier than it should have.  I highly suggest giving Twelve and Holding a look. It's a relatively unknown work that deserves to be seen. It's a shame that movies like Twelve and Holding get pushed aside and aren't seen as frequently as movies that don't even deserve to be made. I've heard this compared to Stand By Me, and it's a fairly accurate comparison. I still think it's more like George Washington, but very few people have seen that one. 
Melvin White
Super Reviewer
Quiet different and unique, at least compared to most of what I've seen in the past 5 years. If only the ending had been better than what it is, I might have given it 4.5 or even 5/5 as well. Having said that, I still find it highly commendable.
familiar stranger
Super Reviewer
Twelve and Holding Quotes
There are no approved quotes yet for this movie.