Twilight of the Ice Nymphs
(1998)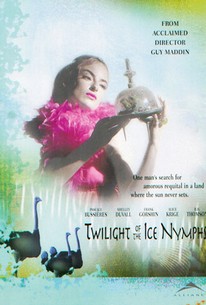 Twilight of the Ice Nymphs Photos
Movie Info
Set in a blazing land where the sun ceaselessly shines, this dramatic fantasy examines love's darker aspects. After years of incarceration as a political prisoner, Peter Glahn (Nigel Whitney, who had his name removed from the credits because another actor redubbed his lines) finally returns to Mandragora via ship. During the voyage, he encounters the glamorous Julianna (Pascale Bussieres), and falls deeply in love. Before he can act upon it, the radiant beauty mysteriously disappears. Once home he goes to see his sister Amelia (Shelley Duval) on the family ostrich farm. Poor homely Amelia is pining for the love of snake-in-the-grass Dr. Solti (R.H. Thompson) who is busy controlling the lives of Juliana and Zephyr (Alice Krige), a fisherman's widow. Solti toys with these women, but he is actually in love with a statue of Venus, a magical sculpture that seems strangely drawn towards Zephyr. Continuing frustration causes Amelia's smouldering passion for Solti to erupt into a conflagration of grisly violence. A challenging film from idiosyncratic Canadian filmmaker Guy Maddin.
Critic Reviews for Twilight of the Ice Nymphs
Audience Reviews for Twilight of the Ice Nymphs
½
Twilight of the Ice Nymphs is an interesting visual and narrative concept that is unfortunately derailed by atrocious voice acting, which is due in part to the bad attempt at a modern Shakespearean fantasy. The actors involved play sincerely enough but can only do so much with a story that haphazardly meanders from philosophical concept to concept without moving the story forward in any sort of meaningful or dramatic manner.
Brett Warren
Super Reviewer
½
"Triumph of the Ice Nymphs" starts with Peter(Nigel Whitmey) returning home after four years in prison. So, it's no surprise that a mysterious beautiful woman(Pascale Bussieres) asks him to steal back some jewelry for her before disappearing into the night. On the home front, his sister Amelia(Shelley Duvall) runs an ostrich farm which Cain Ball(Frank Gorshin) hopes to one day take over. But first there is Dr. Solti(R. H. Thomson) she is curious about. On the one hand, "Twilight of the Ice Nymphs" differs from a lot of Guy Maddin's other films in that it is less a pastiche this time, more an original world that did remind me a little of "A Midsummer Night's Dream." In fact, this might be his only film in full color. But that is not to say it is not as daft as anything else he has concocted.(Any movie with ostriches playing a prominent role is bound to be at least a little off kilter.) On the island where the movie is set, time does not flow naturally, as it seems to move in a circular motion, allowing elements of the supernatural to seep in.
A prisoner returns to his childhood home on an ostrich farm, and becomes involved with two mysterious women. An uninspiring protagonist in an uninvolving plot leads to a slow slog through a surrealist bog, thankfully livened by wonderfully stylized sets with brash, clashing color schemes that make the film work (somewhat) as a kind of slide-show with dialogue.
Twilight of the Ice Nymphs Quotes
There are no approved quotes yet for this movie.