Two Daughters
(1961)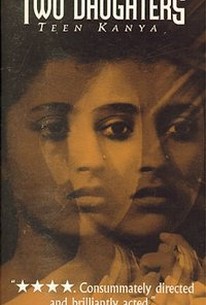 Movie Info
Twin tales by Satyajit Ray: "The Postmaster," about an orphan's relationship with a postal employee; and "The Conclusion," about an arranged marriage gone awry. Anil Chatterjee, Aparna Das Gupta, Chandana Bannerjee, Soumitra Chatterjee, Nripati Chatterjee. Based on short stories by Rabindranath Tagore.
Critic Reviews for Two Daughters
Audience Reviews for Two Daughters
Teen Kanya originally consists of three stories. This version I am viewing contains two of the stories (due to subtitles not being finished and to budget constraints). The first story is "Postmaster" and tells the story of a young man coming to work as a postmaster in an isolated village. The only companion he has is the small girl who has been ordered to work for him and do as he says, yet instead they form a friendship and in return he teaches her to read and write. However after a case of malaria he leaves the village leaving the girl heartbroken. The second tale is "Samapti" and is defiantly the better of the two. Again this is about a young man, but this time the man is coming home after his exams to a mother who is desperate for him to marry. Not taking to the suitor lined up for him he marries the local tomboy but it truns out that marraige is not what she wanted. The second story has some very funny moments, even slapstick at times. It succesfully blends comedy and drama. Overall a decent film from Ray.
Two Daughters Quotes
There are no approved quotes yet for this movie.