Two for the Road
(1967)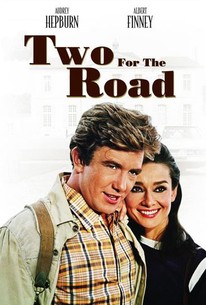 Movie Info
In preparing his romantic comedy Two For the Road, director Stanley Donen decided to utilize many of the cinematic techniques popularized by the French "nouvelle vague" filmmakers. Jump cutting back and forth in time with seeming abandon, Donen and scriptwriter Frederic Raphael chronicle the 12-year relationship between architect Wallace (Albert Finney) and his wife (Audrey Hepburn). While backpacking through Europe, student Finney falls for lovely music student Jacqueline Bisset, but later settles for Hepburn, another aspiring musician (this vignette served as the launching pad for the film-within-a-film in Francois Truffaut's 1973 classic Day for Night). Once married, Finney and Hepburn go on a desultory honeymoon, travelling in the company of insufferable American tourists William Daniels and Eleanor Bron and their equally odious daughter Gabrielle Middleton. Later on, during yet another road trip, Finney is offered an irresistible job opportunity by Claude Dauphin, which ultimately distances Finney from his now-pregnant wife. Still remaining on the road, the film then details Finney and Hepburn's separate infidelities. The film ends where it begins, with Finney and Hepburn taking still another road vacation, hoping to sew up their unraveling marriage. While critics did nip-ups over Stanley Donen's "revolutionary" nonlinear story-telling techniques, audiences responded to the chemistry between Audrey Hepburn and Albert Finney, not to mention the unforgettable musical score by Henry Mancini. Note: many TV prints of Two for the Road are edited for content, robbing the viewer of Finney and Hepburn's delightful "Bitch/Bastard" closing endearments. ~ Hal Erickson, Rovi
Critic Reviews for Two for the Road
Audience Reviews for Two for the Road
The film chronicles several journeys in a couple's relationship. While the performances by Albert Finney and Audrey Hepburn are often delightful, the film's primary problem is its unevenness. It's occasionally hard to follow, and the mix of happy times and marital discord never quite finds its proper balance. Overall, there are parts of this film that are fun, but the film as a whole lacks cohesiveness.
Jim Hunter
Super Reviewer
½
An au courant account -by the swinging sixties' standards- of a relationship and the institution of marriage, shown through all its stages with lots of charm. From a narrative standpoint it might be a bit muddled, but Hepburn and Finney give the right touch of wit, chemistry, cynicism and joie de vivre for all to be pleased.
Pierluigi Puccini
Super Reviewer
Albert Finney is sososososo hot. This is what Shoot the Moon wants to be but isn't. I'm glad it ends happily - really, really glad.
Jennifer Xu
Super Reviewer
Two for the Road Quotes
| | |
| --- | --- |
| Joanna Wallace: | *a train drives past them, catching them by surprise* Sexy, wasn't it? |
| Joanna Wallace: | Sexy, wasn't it? |
| Mark Wallace: | *sarcastically* You're not frustrated at all. |
| Mark Wallace: | You're not frustrated at all. |
| | |
| --- | --- |
| Mark Wallace: | What kind of people just sit there without a word to say to each other? |
| Joanna Wallace: | Married people. |
| | |
| --- | --- |
| Mark Wallace: | I was waiting for what you wanted! You wanted a boiled egg, not me! |
| Joanna Wallace: | So I suppose Caroline has nothing to do with this? |