Tyttö sinä olet tähti
(2005)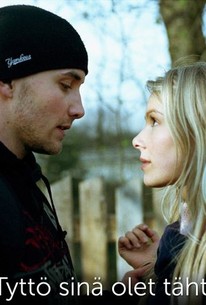 AUDIENCE SCORE
Critic Consensus: No consensus yet.
Tyttö sinä olet tähti Photos
Movie Info
An aspiring singer and a dejected DJ find their tenuous relationship may benefit them both if they can look past their creative aspirations far enough to realize the human component to their dilemma in a coming-of-age romantic comedy directed by Finnish filmmaker Dome Karukoski. Nelli's parents want her get a solid education and attend medical school, but the young singer has other ideas about what to do with her future. Convinced that if she could just record a demo the record company executives would recognize her talents, Nelli enlists the aid of local DJ Sune in getting her track down on tape. Sune isn't too smooth with the ladies, though, and after making a bet with his friends that he can bed Nelli, the desperate pair soon discovers that in order to get a little, they have to give a little as well. Though their arrangement initially works out so well that Nelli and Sune begin to discover a genuine affection for one and other, Nelli's jealous boyfriend isn't so enthusiastic about the current state of affairs.
Critic Reviews for Tyttö sinä olet tähti
There are no critic reviews yet for Tyttö sinä olet tähti. Keep checking Rotten Tomatoes for updates!
Audience Reviews for Tyttö sinä olet tähti
Again the Finnish title has been badly translated. A more proper translation would be "Girl, you're a Star". The two lead character's have different cultural and social backgrounds. It woun't be a surprise when I tell you that the boy comes from worse conditions.. The girl dreams of becoming a RnB performer whilst the boy is the brains behind a rap band. The two meet by a simple joke/bet made by his friends. During the movie the two start to know each other better and therefore the inevitable love story unfolds. I'll admit, I had my disbeliefs against the movie. I'm not a big fan of music related films but still decided to watch it. The film starts slowly and all of the minor sins of Finnish cinema come together. Amateur like acting, sloppy dialogue, minimal production values etc. But although the films start had me almost convinced that nothing special can come out of this, I have to admit I was kinda surprised. Some nice dialogue and scenes will surely deliver some laughs. But don't forget that there's also drama... In the end, the actors do a decent job. The supporting actors once again steal the show. But that's nothing new nowadays. Most of the characters lack depth so I pressume it's not difficult to bring some warmth to them. The film is somewhat of a copy of Curtis Hanson's "8 Mile". The male lead actor even resembles Eminem! The film also looks like its distant cousin with an industrial look. Those who liked "8 Mile" might enjoy their time with this one also.
Tyttö sinä olet tähti Quotes
There are no approved quotes yet for this movie.