Un amour de jeunesse (Goodbye First Love)
(2012)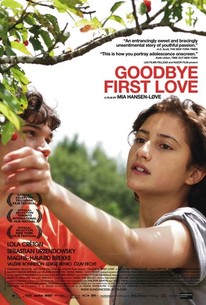 Un amour de jeunesse (Goodbye First Love) Photos
Movie Info
Fifteen-year-old Camille (Lola Créton) is a serious, intensely focused girl who has fallen in love with cheerful Sullivan (Sebastian Urzendowsky), an older boy who reciprocates her feelings, mostly, but wants to be free to explore the world. When he leaves her to travel through South America, she is devastated. But over the next eight years, she develops into a more fully formed woman, with new interests and a new love-and the possibility that she'll be less defenseless when Sullivan enters her life again. Filled with scenes that showcase her extraordinary ability to evoke moods and feelings, Hansen-Løve takes the story of a girl's first romance and makes it into a singular experience, familiar in its broad strokes and yet so specific that it feels uniquely personal. -- (C) IFC
People Who Like this movie also like
News & Interviews for Un amour de jeunesse (Goodbye First Love)
Critic Reviews for Un amour de jeunesse (Goodbye First Love)
Audience Reviews for Un amour de jeunesse (Goodbye First Love)
½
Hansen-Løve is a very talented director who knows how to tell a simple yet poignant story in a way that always rings true and real, and it relies on a beautiful cinematography and a surprising pair of actors who even make their perfectly affected romantic lines sound natural.
Carlos Magalhães
Super Reviewer
½
"Goodbye First Love" starts with Sullivan(Sebastian Urzendowsky) going on a condom run, while his girlfriend Camille(Lola Creton) patiently waits for him to return. But things are not all hot sex and puppy dogs for this young couple, as Sullivan has left school, intending to go on a prolonged trip of South America, for which he has sold a beloved engraving to finance. While he is gone, all Camille can do is wait for letters and trace his progress on a large map. "Goodbye First Love" is an evocative, thoughtful and intimate drama from Mia Hansen-Love about young love. As such, the movie neatly counters the melodramatics of youth by pointing out that the world does not stop with the end of a romance, however passionate. As time goes on and the years pass, so does life with its unexpected twists and turns. This is especially important to remember for a character who at first glance might seem more than a little needy which could be worrisome to some. But then no teenager has all the answers nor should they.
½
"Coup de foudre", which literally means "thunderbolt", is a beautiful French expression for love at first sight. And if there's anything the French should know, it's the fundamentals of romance. Au contraire, Goodbye First Love is rather the exception that confirms the rule. In Mia Hansen-Løves simplistic melodrama we meet turtle doves Camille and Sullivan. Initially, in their lust-filled adolescence with sex as the focal point. She, with the dream of a long-lasting relationship. He, considerably more reckless, as he pledges his eternal love, only to move with his friends to South America moments thereafter. The emotional climate that ensues is an exhaustingly dull subsistence with Camille in the abyss of melancholy. The pseudo-empathic Sullivan reports of his adventures with letters from abroad, but after a while they stop coming. Years go by. Camille meets someone new. But just as she turns over a new leaf, her shaggy-haired first love returns to her life again, with additional heartache to follow. I appreciate simplicity and unpretentious narratives, but that also requires that I'm captivated by the characters. Sullivan can be immediately discounted with his condemnable selfishness. Camille I do suffer with, but when her qualms are mostly composed of milk-and-water platitudes, you wish in vain that the theatre seat came outfitted with a fast-forward button. There's world-voyaging, moped-riding, berry-picking in picturesque locales. Yet, Goodbye First Love, in its entirety, feels destinationless. A postcard from a place which, albeit photogenic, has little to offer beyond its quasi-meditative (but overall yawn-inducing) tranquility. http://www.facebook.com/pages/Mikes-Movie-Reviews/281824101875153?ref=hl
Un amour de jeunesse (Goodbye First Love) Quotes
There are no approved quotes yet for this movie.