Uncertainty
(2009)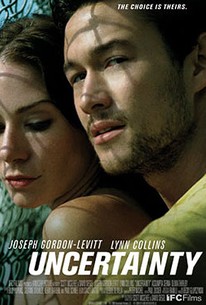 TOMATOMETER
AUDIENCE SCORE
Critic Consensus: Uncertainty benefits from an evocative setting and likable leads, but its gimmicky gambit fails to pay off, fatally undermining its impact.
Movie Info
Responsibility clashes with freedom as a young New York City couple experiences two decidedly different holidays in this drama from filmmaking duo David Siegel and Scott McGehee (Suture, The Deep End). It's the Fourth of July, and Kate (Lynn Collins) and Bobby (Joseph Gordon-Levitt) are struggling to make a decision: do they stick with tradition and spend the weekend with Kate's family, or do they set out on their own for a spontaneous adventure? After making their initial decision, an alternate narrative emerges to show just what would have happened had they chosen to do otherwise. While the decision-making process may seem mundane, the implications of each choice are profound. Sure, a holiday with the family doesn't seem nearly as exciting as an impromptu romantic trip, but that doesn't mean it will be any less dramatic. As the stories diverge and a "what if" scenario becomes reality, it soon becomes apparent how much one seemingly minor decision can ultimately affect the rest of our lives. ~ Jason Buchanan, Rovi
News & Interviews for Uncertainty
Critic Reviews for Uncertainty
Audience Reviews for Uncertainty
A metalinguistic exercise in which it is the characters who have to decide, by flipping a coin, if they want to belong in a sensitive family drama or an action thriller, and so the result is an interesting indie experiment about uncertain paths, though sometimes a bit bland.
Carlos Magalhães
Super Reviewer
½
Typed from my ipad so sorry for any mistakes..... This movie was boring as hell. I understand that they were trying to show how different decisions have different outcomes, but couldnt they have chosen an interesting decision? There was really no substance to this movie. The decision was to either go to the family dinner party or go to a friends party. When they went to the family party guess what happens? They find a dog and go to a family dinner party. Yeah its an actual dinner party. If real life every day happenings were interesting then people wouldnt go to the movies. I go to family dinners all the time and they bore me. Why would I want to watch someone elses boring dinner? I wouldnt! And neither would anyone else! The second scenario was going to the friends party and guess what? They get into a taxi cab, find someones phone and are promptly chased by we dont know who for a good hour. And they dont go to the party i dont think. I cant remember. Anyway if the scenarios had been interesting I think the movie wouldve been ten times better. That was just a writing failure. The first situation is too realistic it lulls you to sleep and the second situation is just as boring and is completely unrealistic. The finding of the phone could have been really cool theres so much the writer couldve done with that....so why does he just have the characters being chased and doing such boring tasks (e.g. Checking email, getting coffee, eating dinner with family, walking their dog, putting up found dog posters, fixing a computer) Yeah I kid you not all of those every day boring things are in this movie as a scene! An entire scene of getting coffee. An entire scene of walking the dog and putting up found posters. Such boring boring stuff! Theres ways to make things realistic without them actually being boring. You could cut out a good half of this movie and still understand it. That is not how you do it. Every scene should be meaningful and that is not the case with this movie let me tell you. Witty dialogue, interesting shots and more action couldve helped this movie so much. It just sucks it was so boring and pointless. At the beginning you know nothing and at the end you know nothing because nothing has happened. Even the characters were pretty two dimensional and didnt change at all. Nothing changed. The writing might have been terrible, but the cinematography sure as hell wasnt. Every shot was beautiful the colors were great, the lines were interesting and it was just awesome. I can tell the DOP really thought about how he was going to put the shots together. The shots were so pretty. Ive seen better cinematography but I would totally hire this guy because hes really talented. The way he set up each shot was really great. In the beginning with the two characters facing each other and the bridge in the background gorgeoussssss and just in every scene after that you can tell he did his part. The cinematography really saves this movie without it, theres absolutely no point in watching it because the writing is just so terrible. But if you wanna see how a beautiful shot is supposed to look, definitely check out this movie.
The choice is theirs. This film is good. Joseph Gordon Levitt is great in the lead and shows his range here, while Lynn Collins isn't bad either. Uncertainty is all about this couple, the decision-making process and the implications that certain action courses have on our lives. It's quite an unusual experience but definitely worth watching. A young couple, Kate and Bobby, flip a coin on the Brooklyn bridge to determine the paths their lives take that day, the Fourth of July. The green path takes them to Brooklyn where they spend a quiet day with Kate's family, coming to a better understanding of their status as a couple. The yellow path takes them to Manhattan where they are being chased by a gunman and are in the center of a dangerous crime ring involving large amounts of money. What does the future hold for Kate and Bobby?
Uncertainty Quotes
There are no approved quotes yet for this movie.