Under the Mountain
(2009)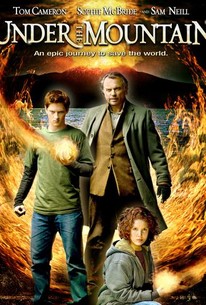 AUDIENCE SCORE
Critic Consensus: No consensus yet.
Movie Info
A brother and sister are chosen for a magical mission in this upbeat fantasy. Rachel (Sophie McBride) and Theo (Thomas Cameron) are twin siblings in their early teens with a special gift -- they can speak to one another without talking through telepathy. However, while Rachel is fascinated with this unusual talent, Theo is wary and avoids using it. After their mother dies under mysterious circumstances, Rachel and Theo are sent to live with an aunt and uncle in Auckland, where Theo becomes all the more determined not to abuse his supernatural powers. However, both siblings are fascinated by a strange old house not far from their new home, and when they sneak inside to get a closer look, they discover it's home to a handful of zombie-like beings living in a swampy pit. The day after, as Rachel and Theo try to figure out what they've found, they encounter Jones (Sam Neill), a centuries-old wizard who believes the twins have special powers that can defeat the dangerous creatures lurking in the old house once and for all. Adapted from a book for young people by Maurice Gee, Under The Mountain was an official selection at the 2009 Toronto Film Festival.
Critic Reviews for Under the Mountain
Audience Reviews for Under the Mountain
Not exciting and only semi-stupid. I guess would be a decent weekend flick for a 12 year old.
Chad Roesti
Super Reviewer
Rachel and Theo are red headed twins who share a telepathic link, meaning they are able to communicate without words and on occasion feel what the other feels. After their mom is killed in an accident, they're sent to live with their aunt, uncle and cousin in Auckland, a city built on a string of volcanoes. Theo is hit hard by his mother's death, and abandons Rachel emotionally forcing her to cope on her own. But when the twins discover the creepy people who live across the lake aren't really people but shape-shifting creatures, the mysterious Mr. Jones (Sam Neill) reveals that the twins are the only ones who can save the world from these alien invaders that lurk beneath Auckland's ring of seven extinct volcanoes. It seems that Mr. Jones was actually the only survivor from the last planet these monsters moved into and only he has the knowledge to help save the world from the evil Gargantua, malevolent beasties who are within days of rising up and turning our world into their own personal mud bath but it's up to teenagers to wield the power.
The story telling was not good, Most movies uses some introduction story in the beginning. But not in this movie, for example of story telling of this movies: "Legend said that twins can communicate each other with telepathy" or something like that. Surely because of that, I didnt understand what this movies wanna to tell at the beginning. So then I feel getting bored and wanna stop the movie, And suddenly I'm getting mad by what the characters played. Its started when The male twins leave his sister at home alone, and then knock-knock on the door. She want to open the door but then stopped. She understand something bad will happen if the door open. Why she's just waiting the door to be opened? Why she is not run away? Oh I hate that part, So I watch and hope that there is something different to watch. A gift because my patiente watching this movie, surely an happy ending. and My gift was that Bleeding skies views, not all volcanoes look terrible when the skies started to shine by its fire eruption. This one shows great view.
Dedy N Cobaein
Super Reviewer
Under the Mountain Quotes
There are no approved quotes yet for this movie.