Unholy Women
(2006)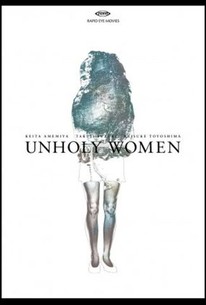 AUDIENCE SCORE
Critic Consensus: No consensus yet.
Critic Reviews for Unholy Women
Audience Reviews for Unholy Women
It tried to be scary, it failed a bit, but when it tried to be funny, it sure made me laugh. It's original compared to other Japanese horror flicks and fused with a large dose of dark humor then you'll get an interesting, intriguing and funny horror flick.
August Seria
Super Reviewer
I think my favourite of the three is 'Rattle Rattle', even though it is very cheesy and rather generic. For some reason I have a thing for the monster... 'Hagane' was original and fun, but I can't say I would really want to watch it again. 'The Inheritance' I found rather boring, though it was obviously trying to raise some kind of point (where as the others just seemed like they were written purely for a celebration of weirdness) but I didn't really get what that point was.
An anthology of three horror short films featuring creepy or "unholy" women. Kata-kata ***½ The monster's face was a bit too corny for it to really be scary. Awesome sound effects, though. It seems the Japanese really master creating unsettling sounds. Hagane **** Holy crap, what was that?! Uketsugu mono ****- Ick!
vieras esine
Super Reviewer
Unholy Women Quotes
There are no approved quotes yet for this movie.