The Uninvited (4 Inyong shiktak)
(2003)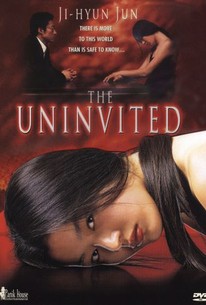 AUDIENCE SCORE
Critic Consensus: No consensus yet.
The Uninvited (4 Inyong shiktak) Photos
Movie Info
Jung-won (Park Shin-yang) falls asleep on the subway one evening. He wakes up to find the train at the end of the line. He bolts off before the doors close, then turns back and sees two little girls still on the train as it pulls off to the railway yard. We learn that Jung-won is an interior designer. His rather controlling fiancée, Hee-eun (Yu Seon), gets a very modern table for his apartment with spotlights over each of the four chairs. The next day, Jung-won learns that the two little girls he spotted were later found dead on the train, apparently poisoned by their mother. Jung-won's dismay only increases when he sees the two girls again, this time slumped over his new kitchen table. Terrified, he begins spending his nights at the home of his father, a pastor at a church. Jung-won goes to see a psychiatrist about renovating his office and runs into one of his patients, Yon (Jeon Ji-hyeon of My Sassy Girl). He feels strangely drawn to the withdrawn young woman. He soon learns that she suffers from narcolepsy, and when she faints in his presence, he takes her to his apartment, where he's shocked to find that Yon can also see the ghosts of the two girls. Yon separated from her husband after the death of their young child, and she is testifying in the trial of the woman responsible for that gruesome death. Jung-won finds himself getting more and more obsessed with Yon, and learns that she has a strange and dangerous power. The Uninvited was the feature debut of writer/director Lee Soo-youn. The film was shown at the 2004 New York Korean Film Festival.
Critic Reviews for The Uninvited (4 Inyong shiktak)
There are no critic reviews yet for The Uninvited (4 Inyong shiktak). Keep checking Rotten Tomatoes for updates!
Audience Reviews for The Uninvited (4 Inyong shiktak)
½
"Dazed and Confused" meets "The Shining"....this movie zig zags all over the place..definitely quirky and unpredictable. It moves slower than molasses and has that David Lynch feel to it..as though the camera lens is 'fogged up' in terms of a clear storyline or character motivations. Most in the story seem either dazed or confused; however that has led me to laugh out loud in a few scenes. The actual viewing of the film is a test of endurance....the scenes are drawn out and long, most times with little action and sparse dialogue. I would characterize this more as a distorted drama that oozes strangeness. You, the viewer, get sucked in and involved, curious to see how it will all play out. In the end though, it's perhaps more a fable about the consequences involving yourself with odd people who experience bizarre events. Absence the warm light there is the cold dark. This movie explores lonliness, detachment and mental isolation ..this is indeed a cold, dark movie...just not an entertaining one or a joy to experience.
Very disturbing ghost story. There's some images in this one you won't soon be forgetting. As for the story, it's good and the pacing and acting are decent. But boy, when it sets out to freak you out, it really doesn't pull it's punches/
Christopher Brown
Super Reviewer
The Uninvited (4 Inyong shiktak) Quotes
There are no approved quotes yet for this movie.