Untold Scandal
(2004)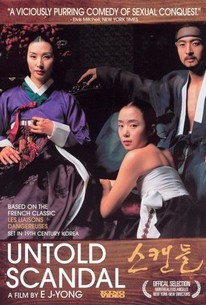 Movie Info
Based on the novel 'Les Liaisons Dangereuses,' this film is set in aristocratic 18th-century Korea at the end of the Chosun Dynasty. The irresistible temptress Lady Cho asks her cad of a younger cousin, Jo-won, to deflower the innocent young Soh-ok, who is to become her husband's concubine. But, his attentions soon shift to the graceful and aloof Lady Sook, who lives according to her convictions as a Catholic. Jo-won becomes obsessed with seducing this chaste woman who has remained celibate for nine years since her husband's death. However, conquering the most virtuous woman in the land proves to be more difficult than Chosun's notorious playboy expects.
Critic Reviews for Untold Scandal
Audience Reviews for Untold Scandal
This is a good movie but I found that it just doesn't really ever gets to a higher level. I like the idea of these cousins who are so morally deficient that, just for fun, they make bets with each other to ruin people's lives. I mean this is a GREAT idea, ripe for comedy and seeing how this asshole, and he really is an asshole at the beginning, tries to manipulate a good woman into doing what he needs her to do to win the bet. Of course, all this manipulation, since Lady Jung ends up being a more challenging conquest than he's used, leads to Won falling in love with her. And the arc of this character is certainly good enough, but there's something about Bae Yong-jun, who plays Won, that doesn't feel like he really changed. He's actually quite good in the role as this manipulative jerk but since he was so good at it, it was hard to believe that he would ever change, especially when there was nothing about his performance that really made you believe that he was changed by his love for this woman. Perhaps it was his body language, but I didn't buy it at all. Not to say he wasn't good, because he was. Jeon Do-yeon, who I find to be one South Korea's best actresses, is also really good in her role but there's something about the way she delivers her line at the end where it just feels like she's overacting. Perhaps it's not overacting and just the fact they try to make this love story to be too important by tragically killing off the main characters. I wouldn't call it melodramatic at all, it's just that the movie overstates the point. I don't think you needed to kill off both characters to get over the fact that they loved each other. It just felt like too much. Even with its flaws I found this movie to be good, and I found Won's attempt to conquer Jung to be the highlight of the movie. The weakest parts end up being the drama, even if it's still solid. There are some great performances in this movie though. Solid stuff right here.
Jesse Ortega
Super Reviewer
½
Dangerous Liaisons...Japanese version. Much better than the American version. Beautifully done.
Cynthia S.
Super Reviewer
½
A very sensual, and beautifully filmed version of the Dangerous Liaisons story, with a Romeo and Juliet twist, from Korean director, Je-Yong Lee. The cast is superb, the script is crisp, and the cinematography is just breathtaking. Scene after scene unfolds, revealing the depth of depravity of the two main leads, Lady Cho (Lee Mi-Suk) and Cho-won (Bae Yong-Jun), as they play their games for keeps. And yet, not all is darkness and intrigue. We get to see their humanity as well, although in Lady Cho's case, it is only a brief tiny glimpse. One can easily imagine Melody Gardot's song, "Your Heart is as Black as Night" would be a fitting theme song for this. Strangely, as others have mentioned the soundtrack draws heavily on Western Classical music. Surprisingly, it fits. Nearly perfect.
Mark Abell
Super Reviewer
Untold Scandal Quotes
There are no approved quotes yet for this movie.