Upgrade
(2018)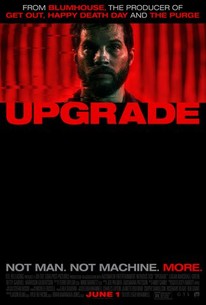 TOMATOMETER
AUDIENCE SCORE
Critic Consensus: Like its augmented protagonist, Upgrade's old-fashioned innards get a high-tech boost -- one made even more powerful thanks to sharp humor and a solidly well-told story.
Movie Info
After his wife is killed during a brutal mugging that also leaves him paralyzed, Grey Trace (Logan Marshall Green, SPIDER-MAN: HOMECOMING, PROMETHEUS) is approached by a billionaire inventor with an experimental cure that will "upgrade" his body. The cure - an Artificial Intelligence implant called STEM - gives Grey physical abilities beyond anything experienced and the ability to relentlessly claim vengeance against those who murdered his wife and left him for dead.
News & Interviews for Upgrade
Critic Reviews for Upgrade
Audience Reviews for Upgrade
One step further along the sci-fi trail in the woods from Blade Runner, Matrix, (and Prometheus), this looks at the possible outcome beyond plastic surgery, but physical modification through nanotechnology. Characterizations are a little undercooked beyond the main character but the film is still a great deal of fun and a worthy consideration for a weekend night.
Kevin M. Williams
Super Reviewer
½
This is a film that has all the old school pulpy thrills that can easily be described as 'Robocop meets Death Wish'. It's low budget futuristic look and feel is literally comparable to both the likes of John Carpenter and Paul Verhoeven, even if the Melbourne filming is enough to confuse someone like me to appear as something else. Overall, it's still a competent dirty sci-fi action thriller that delivers on the goods of it's action and dramatic conflict that act as a real world satire/commentary of technology benefiting human lives and functions. Funnily enough the title itself is an almost play on the film itself, upgrading the old school thrills and chills with modern humour and smart plotting. Recommended for the most die-hard old school cult sci-fi fans.
Luke Eberhardt
Super Reviewer
½
GET HER! - My Review of UPGRADE (3 1/2 Stars) During the Reagan 80s, it was no surprise that filmmakers reacted to his administration, whether consciously or not, by telling stories about loss of control. Think TERMINATOR, WAR GAMES, BLADE RUNNER, ROBOCOP, ROAD WARRIOR, the stunning 1984, or BLUE VELVET to get the idea that a dystopian world felt well within our grasp. Flash forward to today, where a dangerous xenophobic, racist who Tweets nonsense and thinks it's best to "wing it" when meeting with an unstable nuclear power, and it's no wonder the artistic response has grown really dark. I watch THE HANDMAID'S TALE and feel we're just 5 minutes away from Gilead. Not all artistic endeavors come out as thoughtful and polished as that one. Often the slapdash exploitation films do the trick just as well. Here's where UPGRADE, from the SAW and INSIDIOUS scribe Leigh Whannell enters the fray. On the surface, it's a cheesy, sci fi thriller version of THE SIX MILLION DOLLAR MAN, but its commitment to the surprise of violence due to lack of control, sets itself firmly within the nightmare known as Trump's America. Or maybe Whannell just wanted to make a cool action movie in the 1970s Ozploitation vein of his home country. Either way, Logan Marshall-Green (THE INVITATION, PROMETHEUS) stars as blue collar mechanic Grey Trace, who, in the not too distant future, lives in a world where computers and smart phones anticipate your every need. Sure, we're there now already, but this movie traffics in sleeker environs, so you know it's the future. One evening, he takes a classic hot rod to one of his clients, a young, blond sociopath of a billionaire named Eron (Harrison Gilberston) who introduces him to a new technology he's developing called STEM. Presenting it as a way to make the world better, we know because Eron has Crystal meth eyes and lives in a lair under the beach, that he's up to no good. Tragedy, of course, strikes Grey, rendering him a quadriplegic with a mission to seek revenge against those who caused him so much pain and grief. Eron re-enters the picture, offering Grey his STEM implant (not very subtle there), which not only cures him, but gives him super-human strength. What could go wrong?!! What follows is a series of exciting, comically absurd, wonderfully presented fight set pieces replete with great ultra-violent kills (you'll never look at a large kitchen knife the same way again), all delivered with Marshall-Green enraged yet stunned by his own powers. The STEM talks him through his feats, although nobody else can hear it, making for the greatest robotic pantomimes since Lily Tomlin took over Steve Martin's body in ALL OF ME. It's a cautionary tale about the fear of losing one's power, and being careful what you wish for when you gain it back. It's your typical Man Meets Siri/Man Fights With Siri/Man Tries To Live With Siri love story. Think Spike Jonez's HER with 100% more karate chops. Betty Gabriel, the scene-stealing housekeeper from GET OUT, gets a nice chance to smoothly navigate a co-starring role as a detective on the case. She's commanding and between this and the former film, demonstrates range and movie star charisma. The rest of the cast is fair-to-middling much in the same manner of performances you'd see in old Cannon or Empire Pictures films. It's grindhouse acting from the 80s without the leather jackets and hair gel. UPGRADE embraces its schlockiness, knowing full well that its less dystopian vision and more crazy fights and fantastic Marshall-Green reaction shots. For some time now, he's been describes as the Poor Man's Tom Hardy, but UPGRADE allows him to break free from those shackles and unleash hell in a ridiculously funny, thrilling way. It reminded me of John Carpenter's THEY LIVE mixed with the body horror of vintage David Cronenberg. Between this and REVENGE, 2018 is shaping up to be midnight movie heaven.
Glenn Gaylord
Super Reviewer
Upgrade Quotes
There are no approved quotes yet for this movie.