Van Wilder: Freshman Year
(2009)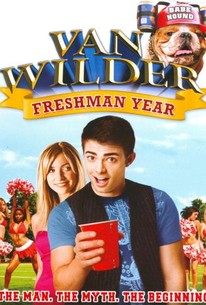 AUDIENCE SCORE
Critic Consensus: No consensus yet.
Van Wilder: Freshman Year Photos
Movie Info
Discover how seven year college senior Van Wilder earned his puckish reputation in this prequel detailing the freshman year high jinks that made history. When Van Wilder (Jonathan Bennett) enrolled in Coolidge College, he had no idea that following in his wealthy father's footsteps would be such a formidable task; the uptight dean has official banned partying on campus, and the student body is too busy studying to fight back. When Van Wilder discovers that every female student on campus has taken a vow of chastity, he declares that no cheerleader will go untouched, and no keg of brew will be left untapped. But freeing Coolidge College from the oppressive shackles of party persecution and sexual malaise won't be easy, and in order to accomplish his mission Van Wilder will have to put his studies on pause, and unleash some serious mischief.
Critic Reviews for Van Wilder: Freshman Year
Audience Reviews for Van Wilder: Freshman Year
½
Very similar to the first film, not quite as funny or original as that one though. Still if you liked the original a lot, you'll get some laughs out of this.
Totally hilarious and hotter since American Pie: Beta House because it made me drool and couldn't stop laughing. Jonathan Bennett does not have the same charisma as Ryan Reynolds, however, he is excellent in this role. The script is well written and quite funny, the acting is fairly good, about as good as you would expect from a movie of this type. It is truly amazing how decent storyline's and decent acting can do to make a very enjoyable movie.The truth is I haven't seen the classic comedy Van Wilder yet.
Dean McKenna
Super Reviewer
Good God people Please please if you want the terrorists to stop, if you want Obama to get his shit together, if you want Twilight to never be beat-off to again, DO NOT SEE MOVIES LIKE VAN WILDER: FRESHMAN YEAR
Coxxie Mild Sauce
Super Reviewer
Van Wilder: Freshman Year Quotes
There are no approved quotes yet for this movie.