Vernon, Florida
(1981)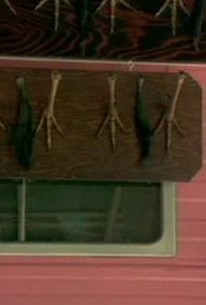 Movie Info
For his second documentary feature, Errol Morris originally set out to chronicle Vernon, FL, because it had the highest rate of a particular sort of insurance fraud -- dismemberment performed for profit -- than any other place in the country. Nothing of that original idea survives in the film itself. Instead, Morris seems perfectly content letting the camera roll in front of the other eccentrics he found there, using his trademark approach of simply letting his subjects do the talking themselves. Many of them exhibit unusually close relationships to animals, including a turtle keeper, a worm farmer, and most memorably, an extremely enthusiastic turkey hunter. Other highlights include a sermon offering a close reading on the significance of the word "therefore" and a couple with a jar of sand from White Sands, NM, that they insist, thanks to radiation, has begun to multiply.
Critic Reviews for Vernon, Florida
Audience Reviews for Vernon, Florida
½
While I love Morris, this is not one of his most impressive documentaries. While it does feature an oddly fascinating cast of characters, it could have used a bit more focus. Something to tie these disparate subjects together. Again, Morris does not mock his interviewees. True to it's name, this film is about the lives of the inhabitants of Vernon Florida. Although it may not be as enthralling as the Thin Blue Line or the Fog of War, it is still definitely worth checking out.
Documentary about small town life in Florida in 1981. Engaging.
½
[font=Century Gothic]"Vernon, Florida" is a documentary by Errol Morris about the citizens of a small Florida town who talk about their daily lives, apparently responding to questions asked off-camera.(It is refreshing that these are not the hyper-articulate talking heads that we have come to expect in documentaries.) In the process, the candences of small-town America are perfectly captured along with man's relationship with nature, which is expressed most vividly by a turkey hunter. [/font] [font=Century Gothic][/font] [font=Century Gothic]Errol Morris would use a more polished version of this documentary style in his 2000 television show, "First Person." What has never changed is his respect for the common man.[/font]
Vernon, Florida Quotes
There are no approved quotes yet for this movie.