The Village Barbershop
(2008)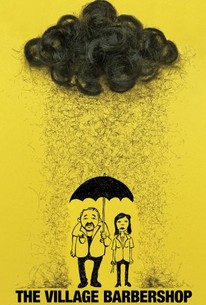 The Village Barbershop Photos
Movie Info
Hair is the only thing two people have in common before they come into each other's lives in this independent comedy-drama. For thirty years, Arthur Leroldi (John Ratzenberger) has operated a barbershop with his business partner Enzo. Arthur is a fine barber, but Enzo is the member of the team with the business sense and a talent for charming people, so when Enzo suddenly dies, Arthur soon finds himself flirting with bankruptcy. As Arthur scrambles to pay his bills, his landlord Jacobi (Amos Glick) would love nothing more than to move a higher paying tenant into his place. Arthur advertises for a new barber to help him run the shop, and his best applicant turns out to be Gloria (Shelly Cole); while Arthur doesn't like the idea of having a woman working in the shop, she's a licensed and experienced cosmetologist, she knows how to keep track of the books, and customers like her. Sharon may be a boon to business, but she has some serious problems of her own; her boyfriend has just left her, she has no where to live besides the trailer she's swiped from her ex, and she's just found out she's pregnant. The Village Barbershop was the first feature film from writer and director Chris Ford. ~ Mark Deming, Rovi
Critic Reviews for The Village Barbershop
Audience Reviews for The Village Barbershop
½
This proved to be a thoroughly enjoyable look at a small town barber undergoing a personal transformation when he hires a woman to work in his barbershop. John Ratzenberger turned in a terrific performance as Art, who is dealing with the death of his friend and business partner and who still has not gotten over the death of his wife, eleven years previously. Enter Shelly Cole as Gloria, a feisty hairdresser who turns his world upside down and who gently prods him back into the land of the living. At times a bit maudlin, and very few plot twists to mix things up could not totally detract from the good feelings one gets from this. There is a lot of subtle humor here, but the strength of the film is in the relationship and the respect that builds between these two characters. This may not be great cinema, or uplifting art, but it certainly is an entertaining story that leaves one feeling like there are still pockets of decency out there.
Mark Abell
Super Reviewer
½
John Ratzenberger (From Cheers) plays in this movie along with Shelly Cole who takes a slow moving movie and subject and turn it into something worth the 99 minutes to watch it. A ageing Barber with a shop that is slowly going broke looks for a new employee and along comes Shelly who give a old man new meaning to life. 4 1/2 stars
Bruce Bruce
Super Reviewer
This movie was fantastic! My husband and I just kind of came across this film by accident. We had noticed that John Ratzenberger was in it, and it had been a long time since we had seen his name attached to anything. Wow, were we ever amazed at the quality of this film, and at how much we enjoyed his character! As a matter of fact we got a big kick out of everyone in the film. The whole thing was VERY enjoyable.
Cynthia S.
Super Reviewer
The Village Barbershop Quotes
There are no approved quotes yet for this movie.