Vision: From the Life of Hildegard von Bingen
(2010)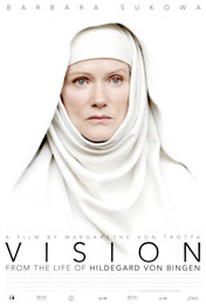 Vision: From the Life of Hildegard von Bingen Photos
Movie Info
Hildegard von Bingen was truly a woman ahead of her time. A visionary in every sense of the word, this famed 12th-century Benedictine nun was a Christian mystic, composer, philosopher, playwright, poet, naturalist, scientist, physician, herbalist and ecological activist. In Vision, New German Cinema auteur Margarethe von Trotta (Marianne and Juliane, Rosa Luxemburg, Rosenstrasse) reunites with recurrent star Barbara Sukowa (Zentropa, Berlin Alexanderplatz) to bring the story of this extraordinary woman to life. In a staggering performance, Sukowa portrays von Bingen's fierce determination to expand the responsibilities of women within the order, even as she fends off outrage from some in the Church over the visions she claims to receive from God. Lushly shot in the original medieval cloisters of the fairytale-like German countryside, Vision is a profoundly inspirational portrait of a woman who has emerged from the shadows of history as a forward-thinking and iconoclastic pioneer of faith, change and enlightenment. -- (C) Zeitgeist
Critic Reviews for Vision: From the Life of Hildegard von Bingen
Audience Reviews for Vision: From the Life of Hildegard von Bingen
½
Biopic on the life of the fascinating 12th century Bendectine nun who saw visions of God and was also a composer, philosopher, polymath, and a strong-willed woman who often butted heads with the Church's male hierarchy. Amazing in it's ability to draw you into its now alien world and get you involved with clerical politics and the slow, quiet rhythms of cloistered life.
½
"Vision" starts on December 31, 999 with a group of people fearing the end of the world with the Y1K virus, huddled together praying, expecting not to wake up in the morning.(I have heard of people who had hangovers so massive they almost wish they hadn't woken up but that's something else entirely.) They get a pleasant surprise when they do. Into this world of ignorance walks Hildegard von Bingen(Barbara Sukowa) who at the age of eight is given over to the care of a cloister. 30 years later and she is about to be appointed magistra but claims ill health and anyway her fellow nuns should vote for her which they do almost unanimously. Along with her spiritual duties, she becomes interested in medicine and studies how music can also be used to heal the body. And then the visions kick in which she confesses to Brother Volmar(Heino Ferch), resulting with her being threatened with the charge of heresy. Written and directed by Margarethe von Trotta, "Vision" is an engaging look at an amazing woman who was way ahead of her time, depicted not as a saint, but as a flawed human being. With the exception of the Arabic world, the Church had most of the accumulated learning which Hildegard used her skills to negotiate access to for her and her nuns. With this learning, she started the slow walk out of the dark ages into a new world of knowledge. And part of that comes with having respect for and knowledge of the body.(Unless you're getting off on it, I have never understood self-flagellation.)
Vision: From the Life of Hildegard von Bingen Quotes
There are no approved quotes yet for this movie.