Vision Quest
(1985)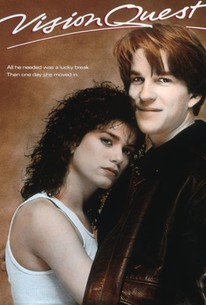 Movie Info
In a rambling, somewhat unfocused manner, this teen drama tells the tale of a high school wrestler trying to "find himself" and a woman who inadvertently enters his life just when he has to concentrate on winning a big match. A complex series of circumstances involving a broken-down car land the traveling Carla (Linda Fiorentino) in the home of Louden (Matthew Modine), the dedicated wrestler. Louden is out to lose ten pounds to get ready for a match with the state champion, and along the way, searches for spiritual solace with a pseudo Native American who after dispensing his best advice takes Louden for a visit to his grandfather, where the family wisdom apparently resides. While trying to ignore the physical attraction posed by Carla, Louden is having a fairly difficult time keeping his mind both on the match and his "vision quest." Notable in this mix of characters is the appearance of Madonna as a singer in a nightclub. Otherwise, time marches inexorably on as the wrestling match and the resolution of Louden's relationship with Carla loom on the horizon.
News & Interviews for Vision Quest
Critic Reviews for Vision Quest
Audience Reviews for Vision Quest
I heard that Madonna was in this movie, but actually you just see her as a singer at a club in one scene. Anyway, this is a predictable sports romance movie, that tries to be like The Graduate at times. A couple of good scenes, but mostly boring.
A really sweet and a romantic story about a teenage wrestler who is 18 falling in love with a woman who's three years older than him. Loved how Louden never gave up no matter what, and how he didn't lose his friendship with Mr. Tanneran. Awesome music in this movie also!!! Watch It!!!!! Just fantastic!!! Love it!!! A great sports movie!!! :) Just great! :)
Cassie Hill
Super Reviewer
I enjoyed this a lot more than I thought I would. I initially bought it for Madonna's short appearance, but the story was pretty good as well.
Sarah Prisbylla
Super Reviewer