Visual Acoustics: The Modernism of Julius Shulman
(2009)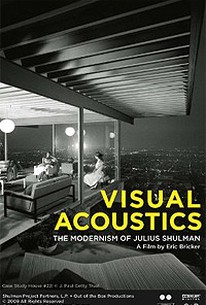 Visual Acoustics: The Modernism of Julius Shulman Photos
Movie Info
For years, journalists have pontificated at length on the importance of modernist architecture in contemporary society, even dissecting its angles, proportions, and overall aesthetics. But what of the visual artists responsible for bringing views of this architecture to the mass public? Time and again, architecture photographer Julius Shulman perfected this unusual and highly specialized art form, defining not modernist architecture per se (he left that up to the designers) but how the overall public perceives modernist architecture. Utilizing a pronounced visual style, this program joins Shulman on a cross-country journey to many of the structures he immortalized with his camera, complemented by the artist's rich and detailed recollections of his work.
Critic Reviews for Visual Acoustics: The Modernism of Julius Shulman
Audience Reviews for Visual Acoustics: The Modernism of Julius Shulman
I am a great fan of modernism and Shulman's work. I was really hoping for more of his work and perspective, Bricker's film just has a post-modern feel that would make Shulman roll over in his grave. If Shulman had lived through the completion of the project the would have added some much needed editing. The movie promises some insight into Frank Loyd Wright, but it is very brief. Beyond allot of Shulman's work and looking into work and visiting the houses 50+ year later, there is some insight into many architects that are overlooked, but pivotal in the movement. Not a great film but I give Bricker credit for capturing Shulman before he was gone.
Bill Cavros
Super Reviewer
Visual Acoustics: The Modernism of Julius Shulman Quotes
There are no approved quotes yet for this movie.