Wait Until Dark
(1967)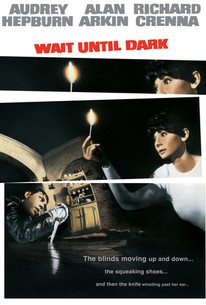 Movie Info
Wait Until Dark is an innovative, highly entertaining and suspenseful thriller about a blind housewife, Susy Hendrix (Audrey Hepburn). Independent and resourceful, Susy is learning to cope with her blindness, which resulted from a recent accident. She is aided by her difficult, slightly unreliable young neighbor Gloria (Julie Herrod) with whom she has an exasperated but lovingly maternal relationship. Susy's life is changed as she is terrorized by a group of criminals who believe she has hidden a baby doll used by them to smuggle heroin into the country. Unknown to Susy, her photographer husband Sam (Efrem Zimbalist Jr.) took the doll as a favor for a woman he met on an international plane flight and unwittingly brought the doll to the couple's New York apartment when the woman became afraid of the customs officials. Alone in her apartment and cut-off from the outside world, Susy must fight for her life against a gang of ruthless criminals, led by the violent, psychotic Roat (Alan Arkin). The tension builds as Roat, aided by his gang, impersonates police officers and friends of her husband in order to win Susy's confidence, gaining access to her apartment to look for the doll. The climax of the film, a violent physical confrontation between Susie and Roat in her dark kitchen, is one of the most memorable and frightening scenes in screen history. All performances are outstanding, particularly those of Audrey Hepburn who plays a vulnerable, but self-reliant woman, and Alan Arkin, in perhaps his best role, as the ruthless, manipulative Roat.
Critic Reviews for Wait Until Dark
Audience Reviews for Wait Until Dark
A group of con artists try to get a doll, laden with drugs, from a blind who unknowingly received it. A wonderful and tense thriller, Wait Until Dark works on almost every level. Alan Arkin, who made a career out of playing charismatic but curmudgeonly goofs, is bone-chilling as the sadistic Roat, and Audrey Hepburn, classic and demure, is every bit the damsel in distress. The plot unfolds brilliantly, and the con artists' plan is both clever and mysterious. The climatic scene thrills in almost total darkness. I wish that the film had not shown us what is in the doll until the very end so that we can -- like Susy -- slowly discover the plot. Overall, this is classic thriller that stands the tests of time.
Jim Hunter
Super Reviewer
½
One of the darkest thrillers, and most innovative as well, this film is a classic suspense-thriller, verging into horror, without missing a beat. The aura of this film, or mis-en-scene, is always perfection, whether that be the bleak, underground set, the blank cinematography that captures the allure and horror of darkness, or the performances, all carried by actors who know their craft exceptionally well. The feeling of being trapped, or claustrophobic, permeates this film throughout, making you very uncomfortable and very aware of the stakes of the film. It's strange knowing the evil of the film, and the exposition, which makes the protagonist's plight that much more harrowing. The main heroine in the film is a recently blinded woman named Susie (Hepburn) who is left alone in her basement apartment by her husband to fight off several men who are looking for heroin in her apartment. The setup is so beautiful and horrific, and the way it is all explained in the first twenty minutes is encapsulating, strange since it simply involves several men talking to one another. The plot against Susie is extraordinary and yet so thrilling, because though they don't use blunt force against her, you know they could kill her in the next instant. Particularly scary is the performance from Alan Arkin as Harry Roate, described by many critics as one of the most terrifying and villainous performances onscreen. Arkin gets goofy once in a while, putting on disguises and trying to fool Susie, and that makes it a little cheesy, but otherwise this film feels perfectly thrilling from beginning to end. There's even an electrifying and heart stopping climax that will make any scaredy cat scream for their life. Just such a beautiful and shocking thriller, on so many levels.
Spencer S.
Super Reviewer
½
This is a great example of economic filmmaking at some of its best. Based on a play, this is Terence Young's crackling Hitchcockian thriller about a blind housewife manced by a gang of thugs who want a heroin stuffed doll that they believe she has. Set primarily in a single location, and cranking the mise-en-scene up to the max, this is some tremendously gripping and entertaining stuff. I absolutely loved the use of sight and sound here, and how they really set up the mood, tone, and atmosphere quite brilliantly. This is one of those films where it could have easily been a no-frills straightforward thriller, but instead went the extra mile and delivered something special. Young provides some innovative direction, Mancini brigns a really nice score, and all the technical stuff is brilliant, but what helps seal the deal even more are the performances. Hepburn is marvelous as the tormented hosuewife, and playing her attackers are Richard Crenna, Jack Weston, and Alan Arkin, all of whom deliver the goods. Special mention needs to go to Arkin though since he wonderfully pulls off a Peter Sellers here (multiple characters, accents). All the villains are good, but Arkin is definitely the most chilling and evil. I really loved this movie. It's smart, intense, incredibly well made, and, even when watched during the middle of the day in plenty of light, still proves to be quite tense and spine tingling. Definitely check this one out.
Chris Weber
Super Reviewer
Wait Until Dark Quotes
| | |
| --- | --- |
| Roat: | (paraphrased): No discipline. . .Bad news. . .Leads to anarchy. |
| Roat: | [paraphrased] No discipline... Bad news... Leads to anarchy. |
Discussion Forum
Discuss Wait Until Dark on our Movie forum!