The War Bride (War Bride)
(2001)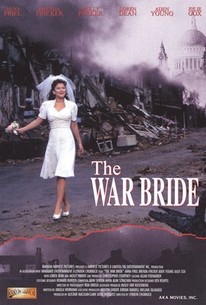 Movie Info
Shortly after English seamstress Lily (Anna Friel) marries and has a child with Canadian soldier Charlie (Aden Young), he ships out to World War II. Moving to his family's farm in Canada, Lily finds herself stuck in a lonely place and at odds with her husband's kin. Brenda Fricker co-stars as Charlie's hostile mother, and Molly Parker plays Sylvia, Lily's disabled sister-in-law.
Rating:
NR
Genre:
Directed By:
In Theaters:
On DVD:
Runtime:
Critic Reviews for The War Bride (War Bride)
Audience Reviews for The War Bride (War Bride)
AKA: The War Bride: Very nice movie. A touching story about a war bride, and her attempt to fit into her new husband's not so welcoming family, and town. Well written, well acted, interesting, funny, and rather touching. Made for tv-ish.
Cynthia S.
Super Reviewer
½
War Shatters Many Illusions To connect yesterday's movie with tonight's, it's worth noting that many people wanted Princesses Elizabeth and Margaret to be sent to Canada for the duration. The girls are said to have declared that they wouldn't go if their mother didn't, and their mother wouldn't go if their father didn't, and their father couldn't. However, British children were sent to Canada and the United States to get away from the bombing during World War II. I even saw a made-for-TV movie starring Hayley Mills on that very subject when I was young. There is also, as this movie explores, the issue of war brides, who of course came from either front and ended up in a strange land far from the people they knew. And, of course, a lot of them had gotten married all in a rush without really knowing their husbands. After all, they could die at any minute, and why not seize the moment? Which is what happens to Lily (Anna Friel). She is an orphan girl who has grown up and gone to London. One night, she meets Charlie (Aden Young) at a dance. They get married before he has to go to war, and she gets pregnant. She and her best friend, Sophie (Julie Cox), leave London to go to their husbands' families in Canada. Sophie ends up with an enormous family in Quebec, I think near Montreal. Lily ends up on her husband's family farm in Middle-of-Nowhere, Alberta. She has never really been out of the city in her life, and now, she is trapped with a grim mother-in-law, Betty (Brenda Fricker), and a resentful sister-in-law, Sylvia (Molly Parker). They all expected Charlie to marry Peggy (Caroline Cave). Sylvia hopes to marry Peggy's brother, Joe (Loren Dean), who is fascinated by Lily. Lily tries to fit in, but it's clear from the outset that no one really wants her there. Though Betty can't quite extend that to Lindy (Schyler and Gabrielle McLaren), her first grandchild. The thing is, they're actively cruel to Lily. From the moment she steps off the train, she's trying her best. She gets matching red cowboy hats for herself and for Lindy, and all they say to her is that people there don't wear things like that. They insult her clothes. Betty won't stop harping on how Charlie's pay now goes to Lily. I understand that Lily has shattered Peggy's hopes by her very existence, but Lily didn't even know Peggy existed. Telling her she'd stolen Charlie isn't fair. No, she didn't bring appropriate clothes for a ranch, but she didn't know she was going to be as far away from everything as she was, even if she'd had the right clothes, which she had no reason to. She wants to contribute, but nothing in her old life prepared her for her new one. She barely knew her husband before he went away, and now, she has no one within two thousand miles or so who cares for and about her. Canada, after all, is really big. I have, of course, a deep love of Molly Parker, and she's quite good here. Sylvia had polio, a scourge the WHO keeps trying to wipe out through vaccination but which ravaged whole populations then. It has left her with a twisted leg, for which she wears a brace. It never seems to occur to anyone that she can still be pretty and feminine. Lily accuses her of hiding behind the leg, but Parker makes it difficult to believe that it's that simple. The Sylvia she plays is intensely self-conscious. She loves Joe desperately, but at the same time, she's afraid to let herself. Yes, Joe falls for the pretty and vivacious Lily, but he doesn't know her when he does. While it's true that Sylvia could never be vivacious, it's equally true that she's quite pretty, albeit in a less flashy way. She's just never been allowed to believe it. Possibly the difference between her and Lily is that Lily's never been able to do anything but put herself out there. I've often wondered how happy a lot of these war-marriages were--are, I suppose. In [i]Rilla of Ingleside[/i], there is a war-wedding, but the bride and groom have known each other all their lives and been secretly engaged--well, secretly from her father, at least--for some time. However, Glen St. Mary, PEI, was a small, out of the way town which didn't have people coming from outside anyway. But in London and New York, among many other places, there were constantly soldiers moving through. People met for the first time at a dance somewhere given for servicemen. Everyone involved went in knowing that the boys had a pretty good chance of dying far from home. For a lot of people, it seems to have been seen as giving the boys something to remember. And that must have been all very romantic before they got home again. As I recall, there's a failed war-marriage in [i]The Best Years of Our Lives[/i], and it can't have been the only one. Of course, a lot of couples never got the chance to find out if they'd be happy.
Edith Nelson
½
This movie was a little disappointing for me. I didn't like the way it played out. Yes eventually the family warmed up to her but it bothers me that they never really apologized for treating her they way they did. I give her credit for staying! It was nice to see that the family and Charlie finally became lovable in the end.
sloopy chicken lips (aka Cynthia)
Discussion Forum
Discuss The War Bride (War Bride) on our Movie forum!