War of the Arrows (Arrow, The Ultimate Weapon)
(2011)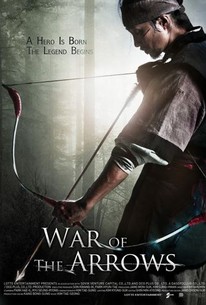 AUDIENCE SCORE
Critic Consensus: No consensus yet.
War of the Arrows (Arrow, The Ultimate Weapon) Photos
Movie Info
Nam-Yi is branded a traitor, but also happens to be the best archer in the Joseon Dynasty. Nam-Yi's main desire is to keep his sister, Ja-In safe from any harm. However, on the day of his sister's wedding, their village is attacked by the Qing Dynasty of China. The village in which Nam-Yi and Ja-In live is in the path of invasion and Ja-In gets kidnapped by the elite troop (Niru) of Qing. Niru departs from his demolished village with a bow that his father had bequeathed upon him before dying. They are relentless in their chase to bring down Nam-Yi, who has but one day to save his sister from slavery. As Nam-Yi finally gets a hold of his sister, Jyu Shin-Ta comes between them and a fierce battle between two of the finest warriors unfolds.
Critic Reviews for War of the Arrows (Arrow, The Ultimate Weapon)
All Critics (2) | Fresh (2) | Rotten (0)
Combines the visual splendour and historical drama of Takashi Miike's 13 Assassins with the unrelenting second-half intensity of Mel Gibson's Apocalypto.
Far more thrilling use of an ancient weapon than anything ever seen from Sherwood Forest.
Audience Reviews for War of the Arrows (Arrow, The Ultimate Weapon)
Moving story, gripping action but pretty formulaic. Good fun for the family compared to Battle Royale...
Letitia Lew
Super Reviewer
Good action sequences, shallow characters. At times it feels like a K-Drama. Not bad to kill 2 hours, nothing more.
Tsubaki Sanjuro
Super Reviewer
Our fable is set during the second Manchurian invasion of Korea in the 17th century, but you'd never get any of that by watching this movie. Superficial tale is more concerned with endless POV shots of flying arrows in slow motion going back and forth in a display of archery prowess. There is scant historical context or even dialogue for that matter to give depth to the narrative. Even the romantic subplot is forgettable. I suppose there's drama in cheering a single man going on the offensive armed with nothing more than a bow and arrow. There's a few mildly interesting battle sequences, but none of them rise above the action of a decent TV show. At one point we are introduced to Jyu Shin-Ta, the leader of Qing Dynasty's troop. At least he gives a human face to the enemy that solicits some much needed excitement. Unfortunately it's too little, too late. Only in the final confrontation do we truly get the emotional connection the story lacks. I dare say there's more character development in the animated Kung Fu Panda. fastfilmreviews.wordpress.com
Mark Hobin
Super Reviewer
War of the Arrows (Arrow, The Ultimate Weapon) Quotes
There are no approved quotes yet for this movie.