Warlords of the 21st Century
(1982)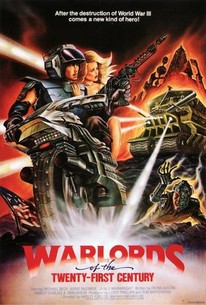 AUDIENCE SCORE
Critic Consensus: No consensus yet.
Warlords of the 21st Century Photos
Movie Info
Harley Cokliss (second-unit director for The Empire Strikes Back) made his feature-film directing debut in this Mad Max-inspired action film. The story takes place in a post-apocalyptic civilization carrying on after a war for oil has depleted the world's petroleum supplies. An outlaw army under the command of Straker (James Wainwright) controls a gigantic truck used as a weapon of pillage. However, Straker's daughter Corlie (Annie McEnroe) doesn't want to be a part of her father's evil designs. She runs away from her father and takes up with Hunter (Michael Beck), a reclusive biker. With Hunter, Annie settles in a peaceful community led by Rusty (John Ratzenberger). But it is only a matter of time before the Battletruck barrels into town, and the peace of the community is shattered.
Critic Reviews for Warlords of the 21st Century
There are no critic reviews yet for Warlords of the 21st Century. Keep checking Rotten Tomatoes for updates!
Audience Reviews for Warlords of the 21st Century
Mediocre production by Roger Corman, who has produced far better films, Warlords of the 21st Century, aka Battletruck looks like a bad rip off of the Mad Max films. This is a film that suffers from a boring plot, poor script, and questionable acting. Usually Corman's films are mindless fun, but with this one, I just couldn't get into it. I felt that it had an interesting concept, but it also relied way too much on the post apocalyptic films such as The Road Warrior. The result is a film that simply doesn't deliver on its ideas. I think that the film simply misses the mark and it should have been much better. Watch Death Race 2000 instead, at least that film was fun, but this, this is a mediocre low budget B movie that fails to really entertain. Unlike other Roger Corman productions, this one is quite forgettable in the long run. B movie fans will enjoy, others may not. Like I said, this isn't the strongest Corman Production. This should have been better. However the cast simply have no on-screen delivery and most of them are pretty bland in their roles. I also felt that the direction was not very good, and in the end, this is a film that wastes its potential of being a highly entertaining B movie, and I think that's a great shame because this film should have been great, like many other Roger Corman Cult hits. Battletruck is not worth watching, and if you're looking for an effective trash film that is fun, and entertaining, you won't find it here. This is mediocre and I didn't like it the way I thought I would. Watch Death Race 2000 and other Roger Corman productions, you'll be glad you did. If you watch this one, don't expect much, as you won't find anything really entertaining here.
Warlords of the 21st Century Quotes
There are no approved quotes yet for this movie.