We Are The Night
(2011)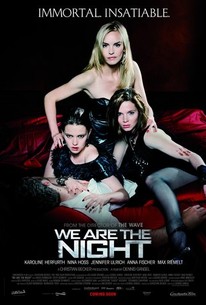 Movie Info
Dennis Gansel, responsible for the hit The Wave, explores night time in Berlin to find a sect of seductive lady vampires that hide out in the city's alternative clubs and enjoy the luxury and pleasures their attained immortality provides them. A stylized vision of female vampirism, closer to films like The Hunger or the TV series True Blood than to Twilight, We Are the Night differs from other films present this year in Sitges because it gives the myth an image of sensuality, charisma and attraction, playing especially on fascination for the night. A fascination that Gansel uses almost paroxysmally to exploit the German capital's nighttime atmospheres. -- (C) IFC Entertainment
Critic Reviews for We Are The Night
Audience Reviews for We Are The Night
[img]http://images.rottentomatoes.com/images/user/icons/icon14.gif[/img]
Directors Cat
Super Reviewer
The German vampire thriller We Are the Night takes an intriguing and refreshing look at the genre. The story follows a young delinquent named Lena who's chosen by an elder vampire to a join her coven of sister vampires. The directing is quite artistic and delivers some amazing scenes. And it presents an interesting mythology, where vampirism has turned into a matriarchy that is tightly controlled. However, the storytelling doesn't live up to ambitions of the film; leave a lot of territory unexplored. Yet, We Are the Night is an exotic and stylistic film with a compelling story.
Dann Michalski
Super Reviewer
½
Vampire films are ten a penny these days. But it's not all the same old crap over and over again. With vampire films, I think you just need to find the right balance between emotional moments that humanise these monsters, and those awesome cool moments. We Are The Night does pretty well in both departments, even if it is in favour of action. The first scene had me absolutely hooked. The camera pans around an airplane where all the passengers and crew have been killed. Still alive are three attractive women that soon reveal themselves to be vampires. After a bit of fun, they open the airplane door and dive out mid-air. From there we are introduced to Lena, a young criminal that soon finds herself involved with the vampires. Unfortunately for them, just before Lena is turned, she catches the eye of a young policeman that's interested in her. Like all vampire films, it starts by showing the luxurious excess. Clubbing, drinking, sex etc. But at the same time the film uses the character of Charlotte as an antidote to all this. She obviously suffers from depression. As the gang go out shopping, she stares longingly at some baby shoes. She also stands in the sunlight causing herself great pain. This character encompasses the strongest emotions, and counteracts the action nicely. We also have Louise. A lesbian vampire that is in love with Lena and feels jealous about Lena's crush on the young cop Tom. It shows that no longer how long you live for, certain human emotions are unavoidable. Towards the end it goes for all out action. With SWAT teams, prison breaks, and a beautifully shot fight that has the vampires moving all over the walls. The music was also enjoyable, but the amount of nightclub scenes did get tiring. Just one less could have made an improvement. We Are The Night is a string Vampire film, with stunning locals and excellent pacing. It was great seeing these girls have fun in a woman only vampire world. Another great example of Gansel's talent.
Luke Baldock
Super Reviewer
We Are The Night Quotes
There are no approved quotes yet for this movie.