We Have a Pope
(2012)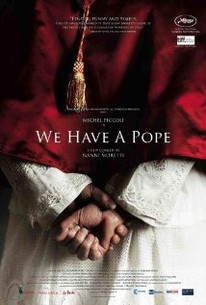 Movie Info
Nanni Moretti joins forces with the great French actor Michel Piccoli to tell the story of Melville, a cardinal who suddenly finds himself elected as the next Pope. Never the front runner and completely caught off guard, he panics as he's presented to the faithful in St. Peter's Square. To prevent a world wide crisis, the Vatican's spokesman calls in an unlikely psychiatrist who is neither religious or all that committed, played by Moretti, to find out what is wrong with the new Pope. As the world nervously waits outside, inside the therapist tries to find a solution. But Cardinal Melville is adamant: he does not want the job, or at least needs time to think it over. What follows is a marvelous insight into the concept of a human being existing behind the title of God's representative on Earth. -- (C) IFC
People Who Like this movie also like
News & Interviews for We Have a Pope
Critic Reviews for We Have a Pope
Audience Reviews for We Have a Pope
½
Even with Piccoli in a strong performance, it doesn't live up to the promise of its premise, offering us an efficient first half with good pacing but then becoming disjointed and dragging with no direction towards nowhere. Besides, Moretti's character seems completely useless.
Carlos Magalhães
Super Reviewer
A promising beginning turns into a bit of a mess. This is a film that does not know whether to take itself seriously or as a pure comedy and leads to a very very empty ending. Sound and Fury signifying nothing.
John Ballantine
Super Reviewer
½
As the Papal Conclave wears on, it appears that there is no clear frontrunner which might have something to do with nobody really wanting the promotion. Eventually, the name of Cardinal Melville(Michel Piccoli) takes precedence and wins out. At the worst possible moment right before being introduced to the faithful, he has an anxiety attack. After a time of waiting for him to recover his senses, the cardinals get restless, with the Austrlian contingent wanting to go over the wall to do a little sightseeing. So, while the powers that be read them the rule book, they also bend them a little to bring in a famed psychologist(Nanni Moretti, who also directed and co-wrote). First off, a disclaimer. "We Have a Pope" really has no problems with the Catholic Church or anybody associated with it. Yes, there is a little white lying and conniving but absolutely no global conspiracies, so hopefully nobody's going to hell.(Still, what the Church would do with the ending and the volleyball tournament is beyond me.) Rather, with amiable good humor, Nanni Moretti shrugs as he wonders what all the fuss is about.(To quote him, he is always harder on himself in his films than others.) More is the shame considering the awful pressure the cardinals are under with such lofty expectations. And don't forget; one should always be vigilant towards those seeking power.
We Have a Pope Quotes
| | |
| --- | --- |
| Cardinal Melville: | I have a parental deficit. But I don't know what it is. |
| | |
| --- | --- |
| Female Psychotherapist: | What do you do? |
| Cardinal Melville: | I'm an actor. |
| | |
| --- | --- |
| Cardinal Melville: | I can't do this. |