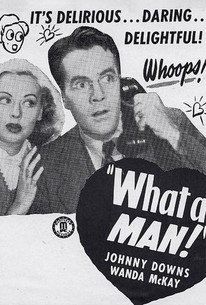 What a Man!
1944, Drama, 1h 7m
8 Reviews
100+ Ratings
Rate And Review
Movie Info
A man (Johnny Downs) becomes embroiled in a murder mystery after meeting a beautiful woman (Wanda McKay).
Audience Reviews for What a Man!
If you ever wanted to know if there are any differences between American romantic comedies and German romantic comedies, then this film be a very poor choice, because it's exactly as cliched, as predictable, and as contrived as its American counterparts. It's also surprisingly unfunny. You'd see some of these films where the comedy isn't particularly good but you'd know that they were at least trying to make you laugh. With a few exceptions, this film doesn't really even try. And when it does try, it doesn't really work anyway. I suppose the film thinks it's probably funnier and cleverer than it truly is and perhaps that's why it thinks that it doesn't really need to try and it can get away with not being particularly funny, interesting, or insightful. The one thing the movie does have, outside of Matthias Schweighöfer's inherent likability, is the fact that it does a good job at sort of tying its two main characters together and make it a lifelong story about their "love", as cheesy as it sounds, rather than just focusing on a relationship between two people that met each other for the first time after the film starts. So that sort of "long-term" build up to them actually getting together certainly had its sweet moments and moments that wouldn't have been there otherwise. This just isn't a film that does anything to stand out of the pack. It's more concerned with appealing to a broad audience than it is concerned in making sure the script is tightened up, the characters are more interesting, and the film is actually funny. Focus on what's really important rather than making a half-assed attempt at a predictable Hollywood rom-com. We already have thousands of those here and the ones that really stand the test of time are those that manage to subvert all the cliches and the expectations to create something that's truly unique. This, however, is not one of those films. It's below average at best with few redeeming qualities.
See Details