What's the Matter with Kansas?
(2009)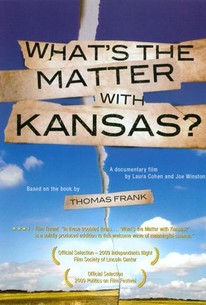 What's the Matter with Kansas? Photos
Movie Info
Filmmaker Joe Winston draws inspiration from author Thomas Frank's nonfiction best-seller of the same name to explore how the state once known for its radicalism has evolved into a bastion of conservatism. Pay a visit to the Kansas State Fair, and odds are you'll notice plenty of activity around the Kansans for Life booth. It's run by Angel Dillard, a die-hard Republican activist, and it's evolved to become one of the fair's hottest attractions. Angel is just one of the 6,000-member congregation at Immanuel Baptist Church, where Pastor Terry Fox encourages his followers to vote with religion in mind. But just when it seems that the locals can't get any more conservative, the tide starts to turn, and the local elections get interesting.
Critic Reviews for What's the Matter with Kansas?
Audience Reviews for What's the Matter with Kansas?
Here is the thesis of the book: Republicans use social and religious issues to motivate lower income people to vote against their economic self-interest. As you can see, the thesis of the book is very interesting, and it would be good if there were a film that explored this thesis with specific examples, math, interviews with candidates, profiles of Republican supporters, liberals' work using reason and logic to convince Republican voting bases to switch their votes, and a look at the root of the political shift in the southern demographics. But this film does none of that. Instead, in the words of Kyle Smith of The New York Post, "It's condescending, it's vague, it's unfair and, ultimately, it's pointless." The film presents a few "enlightened" liberal southerners and a lot of Christian fundamentalist southerners. In the end, the film doesn't rise to the level of any political commentary, not to the degree that the book did. Overall, I was very disappointed with this film, and like most things, one would be better served by reading than watching the film.
Jim Hunter
Super Reviewer
What's the Matter with Kansas? Quotes
There are no approved quotes yet for this movie.