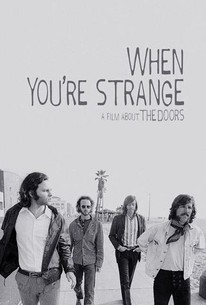 The Doors: When You're Strange
2009, Documentary, 1h 30m
70 Reviews
500+ Ratings
What to know
critics consensus
It's far from a critical assessment of the band's music or its legacy, but When You're Strange gives fans a beautifully filmed, lovingly assembled tribute to the Doors. Read critic reviews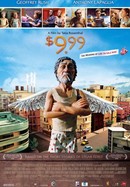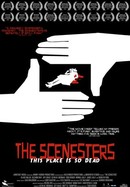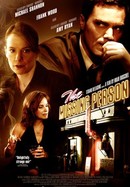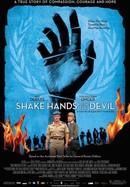 Shake Hands With the Devil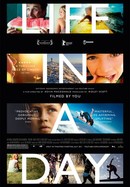 Where to watch
Subscription
Rent/buy
Rate And Review
The Doors: When You're Strange Photos
Movie Info
A history of Jim Morrison and the Doors includes archival footage of concert performances, recording sessions, and backstage scenes.
News & Interviews for The Doors: When You're Strange
Audience Reviews for The Doors: When You're Strange
Wow, Johnny Depp is about as strange as they come, so he's perfect to narrate this, yet when it came to picking out a writer and director, they really slipped up, because it should have been Oliver Stone. True, he already did the actual film "The Doors", and not at all spotlessly for that matter, yet he was so startlingly perfect to direct a film about The Doors that any less fitting director may as well be John Lasseter. Granted, stepping back and looking at it, considering that all Lasseter makes are cartoons about talking toys and animals, as well as a world populated by also animated and anthropomorphic cars, he sounds perfect to make a film about something as weird as The Doors, yet when you get down to it, no, it wouldn't have worked. Hey, they got Johnny Depp for this, so why not get Tim Burton? Actually, I'm glad they didn't, because Tim Burton would have tried to actually work Johnny Depp into the film, and I don't mean in original footage or something, I mean that he would try to pull some "Forrest Gump" CG and have them edit Johnny Depp into the archival footage as Jim Morrison, and Helena Bonham Carter would be Ray Manzerk. Well, eitherway, while the loss of Oliver Stone is unfortunate, as the surviving members of The Doors definately "won't" tell you, yet Tom DiCillo does a good enough job for this documentary to ultimately satisfy. However, if DiCillo really did slip up as bad as I hear he did at the original narration, which was evidently so bad that they felt that Johnny Depp would be much less monotonic, then it wasn't the only mistake he made with this film. The film hits occasions of such bits of ultrastylizing as bizarre imagery or superfluous, surrealistically stylized and intermittent dramatisations of, well, I don't know, some guy driving around, ever so occasionally listening about Jim Morrison's death on the radio, and when it does, more often than not, it dives too deeply into that style to the point of being overbearing. These moments of overstylizing don't just hurt the momentum and resonance of the film, but also stand as inconsistent with the general tone and themes of the documentary, momentarily throwing you off and slightly convoluting the documentary, even though the documentary feels a tad lacking in material to convolute. Not even breaking the 90 minute mark, this effort seems to be relatively short among other documentary features on the complex lives and careers of classic musicians, and it's not about to let you forget that, rushing through many of its points and glossing over details, taking little time to meditate upon the material it discusses, much of which is somewhat been-there-done-that. This, combined with limited critical insight, and by extension, much of the human element, leaves the film to ring emotionally hollow and all too brief. To put it simply, the documentary makes quite a few amateur errors and ultimately stands feeling as though it were a TV documentary, complete with limited insight and mostly basic facts, only with a bit more vulgarities and overstylizing. It is an extremely conventional, overly brief and generally hardly memorable documentary. However, what aspects it does succeed at, it strikes with such professional force to keep you invested and actually fascinated, for the most part, or, if nothing else, simply entertained, primarily by the style. As stated earlier, when the film's style turns into ultrastyle, it's often problematic and overbearing, yet that's to be expected when your film is almost entirely style, even when it's good style, like it very much is in here. The plays with lighting and color in the film are often unique and nifty, with an engaging surrealism that mostly fits the themes and adds character to the film. This can also be said about such other stylized aspects as the editing, which is very cinematic in its snappy livliness that ranges in freneticism to reflect the tones of the film, yet never get overbearing, thus giving the film more intrigue, which goes further intensified by, well, believe it or not, the narration. This documentary's narration has come quite a ways from director and writer Tom DiCillo's reportedly dull voice, because with all of my joking about Johnny Depp's also being monotone and perhaps too fitting for a documentary on The Doors, there's no mistaking Depp's presence, not just because of his familiar smooth and cool voice, but because he incorporates his usual charisma of somewhat dark charm and livliness, fitting this documentary like a glove and coating it in appealing texture. Wow, Johnny Depp can't even narrate a documentary without being winningly charming, and thank goodness for that, as it really ups the intrigue of an already entertaining film that also, for all of its underwhelming faults in storytelling, stands as pretty informative. Call Oliver Stone's "The Doors" dubious as much as you want, because even I will, yet there were still plenty of aspects in it that were right on the money, so if you've seen that film, then you've basically seen almost all of the points that this documentary hits, yet that doesn't land much of a blow to this film's engagement and informative value. Sure, the film isn't extensive or comfortable enough in its studies, with only so much of the human touch for it to transcend general underwhelmingness, yet with all of its faults, it's a fine documentary to touch upon, with consistent entertainment value to compliment its ultimately fascinating structure and leave it an ultimately worthy watch. Getting to "the end, my friend" (Get it? Look it up), the film's occasions of overstylizing somewhat throws off its momentum, as well as its consistency, yet what stands as most problematic is the limiting of the human touch and extensive insight and meditation amidst its much too brief length, thus leaving it underwhelming to the point of being somewhat forgettable, yet with a razor-sharp and fitting style and editing, as well as Johnny Depp's thoroughly charismatic narration that livens up generally fascinating material, "When You're Strange" ultimately stands as a consistently entertaining and mostly engaging study on the rise and fall of the classic surreal rock band, particularly its notoriously rocky frontman. 2.5/5 - Fair

Even with great music and rare footage, the documentary "When You're Strange" only manages to scratch the surface of The Doors. A lot of that is due to the narration in all its pretentiousness in trying to link the band to not only the youth movement of the 60's with unnecessary archival footage but also a Deeper Meaning.(Just don't blame Johnny Depp because he is only reading it. And with a William Blake reference hanging above it all, who else were they going to get?) If you're watching a documentary about The Doors, then you already know about the 60's. If you went to a Doors concert and dropped acid, then you might actually need a reminder or two. There is one bit of narration that is actually informative in pointing out the band's lack of a bass guitarist, adding to the band's unique sound which possibly inspired progressive rock bands to come. Sadly, the documentary is mostly only interested in Jim Morrison who apparently would have been happy just writing poetry on a beach somewhere(who wouldn't?), never quite planning as far ahead as the following week. Whereas the charismatic and mercurial lead singer contributed to a lot of The Doors' appeal, as Keith Richards wonderfully pointed out in his recent autobiography, a rock band is much more than just the lead singer.

Interesting documentary if you are a fan of the band. Unfortunately, there is nothing new, despite some cool footage.

A good documentary about The Doors.
See Details