Whispering Corridors
(2005)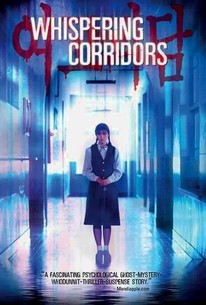 Whispering Corridors Photos
Movie Info
Every three years, the gloomy halls of a highly regimented all-girl Korean school are haunted by the spirit of a student who died as a result of her teachers' cruel forms of discipline. Though outwardly a Gothic, sometimes gruesome horror tale, the story is actually a critique of Korea's militaristic approach to education. At the school, it is not uncommon for errant students to be slapped or hit hard upon the head. The ghost died a decade before in a freak accident and since then her restless spirit reemerges at the same time and interval to get revenge by taking over the body of a new student and using her to cause all kinds of trouble for the instructors. One of those educators was a former student and a best friend of the deceased girl. The ghost's reign of terror is threatened by the presence of a shaman's daughter, who has at her disposal the means to send the ghost away forever. Yeogo Goedan was screened at the 1998 Vancouver Film Festival. ~ Sandra Brennan, Rovi
Critic Reviews for Whispering Corridors
Audience Reviews for Whispering Corridors
.The Trailer said The Movie That started Asian Horror explosion, that would be like saying the three stooges were the start of the Rocky Movie Explosion. A rather poor Korean School Girl Horror Film, about a girl student ghost that committed suicide and returns every 3 years in class, so pretty brutal scenes how male teachers slap around female students. Wouldn't happen in America, Mommy and daddy would be running down to the lawyers office saying my child has been abused. anyway 2 stars overall, 1 star on horror. 2-25-13
Bruce Bruce
Super Reviewer
Occassionally chilling but disappointingly slow-paced, which is a trend that continues in other entries into the series, this being the first of five to date. The opening sequence is awesome and the best moment of the film. It does create a spooky atmosphere but there just wasn't enough scares, and things got a little confusing during the second half of the film. It's not a bad movie by any means, just not a very exciting one. There are better Korean horrors out there.
½
Somewhat more psychological than some Asian Horror films, the body count in this is low - though some of the effects are quite creepy. The plot is convuluted like A Tale of Two Sisters, though not as much, and clearly 'resolves' itself in the end.
Whispering Corridors Quotes
There are no approved quotes yet for this movie.