White Boy Rick
(2018)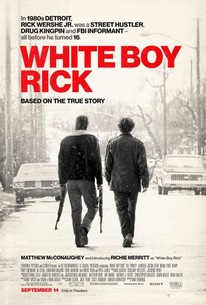 TOMATOMETER
AUDIENCE SCORE
Critic Consensus: Solid work from the cast - particularly a scene-stealing Matthew McConaughey - helps White Boy Rick make up for a number of missed opportunities in the script.
Movie Info
Set in 1980s Detroit at the height of the crack epidemic and the War on Drugs, WHITE BOY RICK is based on the moving true story of a blue-collar father and his teenage son, Rick Wershe, who became an undercover police informant and later a drug dealer, before he was abandoned by his handlers and sentenced to life in prison.
News & Interviews for White Boy Rick
Critic Reviews for White Boy Rick
Audience Reviews for White Boy Rick
½
"You clean up well, Ricky, but you crooked." White Boy Rick is the kind of story that sounds crazier in its broad strokes than it feels when your in the midst of the motions, not realizing what your in the midst of. Director Yann Demange ('71) boils the "based on a true story" events down into a movie about the fragility of family and the relationships in our lives-namely that of the father/son relationship here. It also doesn't hurt that Demange and his team have fully re-created the look and feel of what one imagines mid-80's Detroit looked and felt like for the lower/middle class. I mean, everything in every frame is on point. One of the best soundtracks of the year, undeniably. A host of great showings from the likes of McConaughey, Jonathan Majors, and newcomer Richie Merritt, but ladies and gentleman I needed more of Eddie Marsan in this role! There's a lot of talk of "up selliing" in White Boy Rick, but the magic of what Demange pulls off here is that he executes his story in such a fashion, by dialing in on the familial theme rather than focusing on how "crazy" it all is, that he doesn't have to offer any fries with the burger to convince us we're getting more than we bargained for. We get exactly what we ordered without the typical gimmicks only to find a pie we didn't have to pay for in the bag after the fact.
Philip Price
Super Reviewer
½
A potentially good to great movie is in there somewhere, somewhat lost in uneven direction, bad pacing and a lack of focus. Matthew Mcconaughey seems underutilized, but nonetheless excels. 3.5/5
Jeffrey Meyers
Super Reviewer
½
Although there is just more content being made today than in any other decade in history, it does seem like films based on a true story have become even more prominent throughout the medium. Not knowing much about this particular story, known as White Boy Rick, I went into this film not truly knowing where it would end up, but still managed to feel a little unsatisfied with it as a whole. There are many biopics out there that handle material in a unique way, but everything about this film feels safe. While the story itself is quite fascinating and the character of Rickie enjoyable to watch, I can't help but reflect on the fact that this film strayed as far away from taking risks as it possibly could have. Here's why I believe White Boy Rick is an enjoyable film to watch, but won't really surpass anyone's expectations of it. Being an insider for the FBI, White Boy Rick follows young Rick Wershe Jr., played by Richie Merritt in his breakout role, as he dives deeper and deeper into the crime of drug trafficking, becoming too involved for his own good. Since stories like this have been told before, I was hoping for something a little more interesting in terms of structure, but it really just feels like a series of events and set pieces that will eventually lead him to his eventual downfall. There is a through-line that gives this film a beginning and an end, but it really just feels like a character progression and evolution, rather than a film that has been structured as three acts. This was a little disappointing, considering the plot itself could've shown a slightly darker side. This is where the movie started to lose me a little. Although the story is meant to be light-hearted in most moments (due to the nature of this crazy story), there are quite a few dramatically effective scenes to go along with them, but it almost felt like the movie was getting a little too serious for the writers, so they had to take away from some of the emotion by adding jokes. The best portions of this movie are when Rick is having a great time with his "friends" and hanging out at the roller rink or breaking laws. This is what the movie needed more of, but the family dynamic is a little too prevalent in my opinion. White Boy Rick needed a better balance between its storylines, but maybe that's just me. On top of everything, I think the most disappointing aspect of this movie is the fact that everything feels very standard in terms of filmmaking. From the editing to the direction, to the score and songs throughout the movie, it all felt very formulaic. I felt like I was watching a movie that kept wanting to take risks but decided to play it safe in order to appeal to the real people involved, as well as appealing to the masses. That being said, for a movie that relies heavily on family, the performances need to be top-notch. Otherwise, it would fall apart. Matthew McConaughey gives one of his best efforts in a while and a particular scene actually had me in tears. This really shouldn't come as a surprise, though, seeing as everyone expects him to bring a lot to the table nowadays. Newcomer Richie Merritt is the one to talk about, however. While his performance isn't something that people will be talking about for decades to come, this was quite the impressive first impression. The actor himself has had experiences like this film's premise throughout his childhood, so maybe that added to his talent here, but I'd say look out for his future work. In the end, White Boy Rick has a stellar cast and a talented crew across the board, but it never feels like it's trying to impress or surprise. This is a series of events that lead up to today's current state, and while the story itself is very interesting and makes for a very enjoyable movie, it doesn't have the energy that it promised from its trailers. This is a very slow-moving film, with a great story and fine execution of every technical aspect. White Boy Rick is a good time at the movies, but I don't believe it's a must-see.
White Boy Rick Quotes
There are no approved quotes yet for this movie.