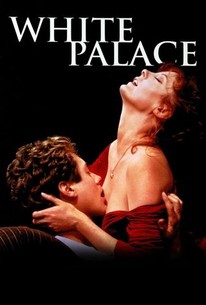 White Palace
1990, Romance, 1h 43m
28 Reviews
2,500+ Ratings
Rate And Review
Movie Info
Max Baron (James Spader) is a Jewish advertising executive in his 20s who's still getting over the death of his wife. Nora Baker (Susan Sarandon) is a 40-something diner waitress who enjoys the wilder side of life. Mismatched or not, their attraction is instant and smoldering. With time, however, their class and age differences become an obstacle in their relationship, especially since Max can't keep Nora a secret from his Jewish friends and upper-crust associates forever.
Audience Reviews for White Palace
Sure it isn't a great movie but I like the unlikely chemistry between Susan Sarandon's character and James Spader's. It works in a really humourous way.

Firstly I will say that I wouldn't have heard or watched this had James Spader not been in it. And I'm pretty biased with Spader movies, because he's James Spader. So that's why it has such a high rating. Romance in any form (except gay romance!) bores the hell out of me, and I never go anywhere near it. I don't like Susan Sarandon either. But, I figured it's got James Spader in it, so even if it's boring as hell, there's James Spader. So, the plot isn't interesting to me, and honestly the whole movie was pretty lame, but as I keep saying: JAMES SPADER. I don't really know what to say about it, but it probably isn't worth watching unless you're majorly obsessed with James Spader like I am.

This movie has some profundity at times, and I think it comes from Spader and Sarandon.
See Details