White Settlers (The Blood Lands)
(2014)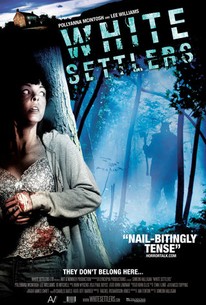 White Settlers (The Blood Lands) Photos
Movie Info
It's Ed and Sarah's first night at their new home - an isolated farmhouse on the Scottish borders. This should be a new beginning away from their stressful London lives. And at first it is; come sunset they fall in love all over again on a wander in the woods. But as darkness falls, Sarah suspects they're not alone, Ed goes to investigate and quickly, the evening becomes a nightmare. It suddenly dawns on them; they do not belong here. And they certainly aren't welcome either....
Critic Reviews for White Settlers (The Blood Lands)
Audience Reviews for White Settlers (The Blood Lands)
Not really sure whether I should give this film 2.5 or 3 stars. In one part, while the house invasion elements of the film, while executed solidly here, have been seen before, and in better movies too, I think the film definitely benefits from a thoughtful subtext based around Scottish independence from England and the perception British people, at least in this film, among the Scot population. Sarah and Ed buy a farmhouse in Scotland that the previous owner could not pay off and the bank took it from him. Ed certainly does himself no favors by acting like he's above everyone in Scotland and pretty much assuming that they're all inbred and fuck their lambs. So, right off the start, you get to see Ed's prejudices come out and how that plays against him in the end. Not that the 'villains' have any way of knowing that that's how he felt about them, but it plays into that perception of Scottish people that some Brits seem to have. This is from what the film tells me, I honestly have idea how their relations are at this point in time. So I thought that was well-done and it's actually nice to have a house invasion thriller where the villains actually have a motivation behind their actions and a more thoughtful one than just 'we want to kill the people inside and take all their belongings.' So, in that respect, I think the movie is good. If it was just a house invasion thriller for the sake of it, without all the political subtext, then I might not have enjoyed it as much. Don't get me wrong, it's not like this subtext itself is entirely subtle. It's pretty much obvious if you know just even a bit of history, but I think it definitely adds a layer that isn't apparent in a lot of films like this. The acting is definitely solid. Pollyanna McIntosh plays against type from the usual badass roles she plays, but she's more than good enough here and the guy who plays her husband, Lee Williams, is also good as well. Like I said, the house invasion elements are tense and suspenseful, but they're not out of this world great, like in You're Next or stuff along those lines. I wouldn't have given the film this rating if it was just a pure house invasion thriller, without any of the thought put behind into its villains' motivations. So I think that combined with the solid thriller elements elevate this film from just another run-of-the-mill horror film. I definitely would say that this is a good little movie. Might not work for everybody, as evidenced by the reviews, but I definitely enjoyed it and it's a solid Netflix watch.
Jesse Ortega
Super Reviewer
White Settlers (The Blood Lands) Quotes
There are no approved quotes yet for this movie.