Why Him?
(2016)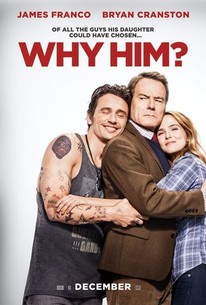 TOMATOMETER
AUDIENCE SCORE
Critic Consensus: Solidly cast but overall misconceived, Why Him? offers the odd chuckle, but ultimately adds disappointingly little to its tired father-vs.-fiancé formula.
Movie Info
Over the holidays, Ned (Bryan Cranston), an overprotective but loving dad and his family visit his daughter at Stanford, where he meets his biggest nightmare: her well-meaning but socially awkward Silicon Valley billionaire boyfriend, Laird (James Franco). The straight-laced Ned thinks Laird, who has absolutely no filter, is a wildly inappropriate match for his daughter. The one-sided rivalry-and Ned's panic level-escalate when he finds himself increasingly out of step in the glamorous high-tech hub, and learns that Laird is about to pop the question.
News & Interviews for Why Him?
Critic Reviews for Why Him?
Audience Reviews for Why Him?
James Franco is raunchy, but sometimes he's so over-the-top, that his films start out funny, and half way through it's just not that funny anymore. When you use your best lines and dirtiest bits in the first half-hour, an hour later, you're hard pressed to out due yourself. The writers of Why Him? tried to combat this problem, by taking Franco's large than life personality and combining it with the dry humor and physical comedy of Bryan Cranston, and the results were mixed. It's holiday season and Stephanie Fleming (Zoey Deutch), wants her parents to meet her new boyfriend, only she doesn't want to tell them anything about him before hand, because if she did, they probably wouldn't come. They are quiet, reserved suburbanites from Cleveland, and he's a dot com millionaire from California, who loves anything new and unusual. As the two sides of Stephanie's life combine, hilarity ensues or at least it's supposed to. Bryan Cranston and surprisingly young Griffin Gluck had the best lines, and were involved in the funniest moments of this film. As for James Franco, once again, he was too much and he has to realize that every comedic role he takes isn't Pineapple Express. The role here calls for eccentricity, not raunchy and stupid. Right from the start and all the way through, every other word out of his mouth was fuck, and every stunt he pulled was more immature than the next. It takes a lot away from the film, especially the ending, which was just ridiculous and simply doesn't fit with the rest of the movie. The bottom line, the story is interesting, Bryan Cranston is always great and Griffin Gluck was a riot. The film definitely has it's moments, but every time you think it's about to turn a corner, Franco shows up to drop a million F bomb, talk about his penis, and preform stunts better left to the stoner movies.
Todd Smith
Super Reviewer
John Hamburg hasn't directed a feature film since 2009, but that film was I Love You, Man. Seven years and several television directing gigs later and Hamburg has delivered Why Him? Personally, I love I Love You, Man. It has become one of those reliable movies you can put on at any given time and are guaranteed to laugh and enjoy while having the added bonus of intelligently breaking down the barriers of masculinity and the weird culture surrounding male friendships. This automatically sets up an expectation that the follow-up won't be nearly as good, especially based on the rather outlandish trailers we received for Why Him? The thing is, it wasn't that I Love You, Man had a more seasoned or credible screenwriter, but in fact Hamburg himself seemingly had a lot to do with both screenplays with his co-writer on Why Him? admittedly having more promising if not limited previous works on his resume whereas Hamburg's co-writer on I Love You, Man, Larry Levin, has such credits as Doctor Dolittle and Dr. Dolittle 2 to his name. Of course, comedy does and doesn't have a lot to do with the writing as the funniest jokes in the world can be written down, but if they don't have the right people to execute them they'll still fall as flat as the worst types of jokes. What is on the paper provides only a basis for the type of comedy hoping to be obtained as well as a launching pad for talented comedians and improvisational actors to take the material to new heights. And so, it isn't that I Love You, Man necessarily had better writing going for it, but rather that it was a novel premise that thrived on the chemistry and appeal of its two stars. Why Him? doesn't necessarily have as interesting a dynamic at its core and its stars aren't nearly as charming as Paul Rudd and Jason Segel, but that doesn't automatically render the film a failure on the comedic front. By all accounts, Why Him? is a perfectly accessible broad if not rather crude comedy that utilizes said broadness to relate to whole families in Middle America, teenagers, and older parents that walk into the film because the trailers featured a scenario familiar to them or because they saw the guy from Breaking Bad being funny. Why Him? is a perfect example of why mainstream comedies both work on certain levels and why they can easily fail on so many others. Though it may not garner me much credibility I rather enjoyed Why Him? to the point I'm not grumpy enough to get mad at a movie for failing to be as introspective about the dynamics it means to document while instead making up for such a lack of substance with easy laughs. read the whole review at www.reviewsfromabed.com
Philip Price
Super Reviewer
This is another movie in the vein of "your rating will depend on your like or dislike of crude humor." I was honestly pleasantly surprised by this film. I was not expecting much but even from the opening 3 minutes, it hits the ground running with gags and punchlines. Plenty of laughs throughout and actually turned out to be one of the better comedies I saw in 2016. I think that comedies have to have their own separate rating category in mind because of course a film like this wouldn't be a 4 star going against something like David Ayer's Fury; but in terms of a comedy film, it's a 4 star. Definitely recommended (if crude comedy is your thing).
Patrick Wrye
Super Reviewer
Why Him? Quotes
There are no approved quotes yet for this movie.
Discussion Forum
Discuss Why Him? on our Movie forum!