Will You Still Love Me Tomorrow?
(2014)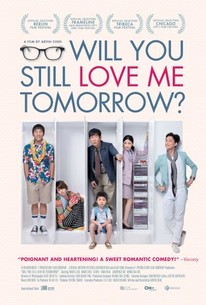 Will You Still Love Me Tomorrow? Photos
Movie Info
In this madcap and lighthearted comedic romp, introverted optometrist Weichung begins to question his marriage with his wife Feng, upon learning of her desire to have another baby. At his sister's engagement party, Weichung bumps into an old friend, Stephen, a wedding photographer who, though also married, is living the high life of a younger, single gay man. When Stephen teases Weichung for his newly straight-laced lifestyle, dormant emotions are awakened in Weichung, setting him off on a quest for true romance and desire. (c) Film Movement
Critic Reviews for Will You Still Love Me Tomorrow?
Audience Reviews for Will You Still Love Me Tomorrow?
It's surprising to see a film, from an Asian country, focus on openly gay relationships. Or at least a man who is struggling with his sexuality after years of pretending to be straight by marrying a woman and fathering a child with her. It's strange because, and I don't mean to generalize a continent as vast and diverse as Asia, but there seems to be a lot of conservatism when it comes to the subject of homosexuality, and even sexuality in general. To the point where, at least in a Korean series I've seen, a clearly gay character is never really referred to as such and no comment is ever made on his sexuality. So to see a film so openly dealing with the subject matter, instead of shying away from it or hinting at it, is both refreshing and encouraging. Because, thankfully, this film doesn't portray homosexuality as anything more than just a person following their heart and not treating it as a sickness or something that is cause for mockery. In fact, everybody in the film is pretty accepting of Weichung's homosexuality, even his soon-to-be ex wife. Of course she's saddened by this turn of events, but eventually she realizes that both of them need to go their own path to achieve their own happiness instead of pretending to be something they're not. That's probably a bit unrealistic as, unfortunately, homophobia is still rampant throughout the world. You don't really hear as much extreme homophobia from that part of the world as compared to countries in Africa, where it's punishable by death in some countries, or Russia. I'm sure it still exists in some form in Asia, but it's not as extreme. But I get that the movie really wasn't trying to shove a social message down your throat, pun not intended, it was just meant to be a light and airy, thanks to its score, romantic comedy, though it doesn't really play like one, with touches of drama. Perhaps why I liked this movie so much, might not be very good but I really enjoyed it, i because it is like a Taiwanese version of Love, Actually. And if you read my review of Love, Actually then you know how much I like that film. This one does focus on fewer characters and smaller situations, but you get to follow multiple characters and their stories. All revolving around the theme of self-discovery and achieving true happiness, even if it's not what anyone else imagined for you. Nothing extraordinary, but it works. The film, while not hilarious in any way, shape, or form, definitely has its funny moments. I don't wanna say they're few and far in between, because they're not, but they're not laugh out loud moments if you get what I mean. But there's some pretty clever moments, like Mandy being "followed", around by the main character from her favorite soap opera who gives her advice as to what she should do after having dumped her fiancee. I say followed because the guy is just a manifestation of Mandy's imagination. There's also this scene at the karaoke bar that sees Weichung's wife performing as she were a part of a doo-wop girl group from the 50s. Again, it's all part of her imagination, as she's drunk out of her mind, but it's a fun little scene. I think the problems come in the fact that there's no real, at least to me, emotional depth to the movie at all. The movie certainly tries but they just cracked the surface of what could've been done and while the characters were certainly likable, they weren't exactly the most complex. Perhaps that complexity was sacrificed in order to have something light and entertaining, and I get that. In the long run I can't really complain about something that wasn't intended to be in the movie in the first place. The cast is good though, they're immensely likable and the script is sweet and charming. Not nauseating as Love, Actually was perceived to be, and rightfully so, I found it infectious personally. But I digress this film's sweetness and charm is certainly a little more subtle than Love, Actually. I liked this movie quite a bit. Far from perfect but an entertaining film nonetheless.
Jesse Ortega
Super Reviewer
Will You Still Love Me Tomorrow? Quotes
There are no approved quotes yet for this movie.