Winchester
(2018)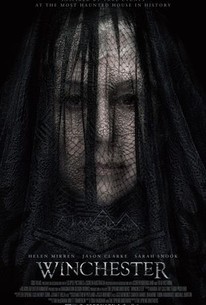 TOMATOMETER
AUDIENCE SCORE
Critic Consensus: Like a grand staircase within the famous mansion that inspired it, Winchester appears poised to get a rise out of audiences, but ultimately leads nowhere.
Movie Info
Inspired by true events. On an isolated stretch of land 50 miles outside of San Francisco sits the most haunted house in the world. Built by Sarah Winchester, (Academy Award (R)-winner Helen Mirren) heiress to the Winchester fortune, it is a house that knows no end. Constructed in an incessant twenty-four hour a day, seven day a week mania for decades, it stands seven stories tall and contains hundreds of rooms. To the outsider it looks like a monstrous monument to a disturbed woman's madness. But Sarah is not building for herself, for her niece (Sarah Snook) or for the troubled Doctor Eric Price (Jason Clarke) whom she has summoned to the house. She is building a prison, an asylum for hundreds of vengeful ghosts, and the most terrifying among them have a score to settle with the Winchesters...
News & Interviews for Winchester
Critic Reviews for Winchester
Audience Reviews for Winchester
Given the cast assembled and the events it's based on, I'm sure you'll forgive me for having at least some expectations for Winchester. Whatever those expectations were though, I can tell you right now, they weren't met. Winchester was massively disappointing, as by-the-numbers as you can get, and if it wasn't for a couple of good performances and the occasional decent effect, it would have literally nothing to offer.
A old curse hangs over the fortuned old house of the famed Winchester repeating rifle empire, whose property is overseen by the eldest Winchester (played decently by Dame Helen Mirren). A psych doctor is called to check on her mental acuity ... maybe the old bird is bonkers, yeah? But no. The house is haunted, and haunted indeed. And you get a decent time at the flickers, yeah?
Kevin M. Williams
Super Reviewer
Though the directing duo of brothers Michael and Peter Spierig made one of the worst films of 2017 in what was the eighth Saw film it was hard not to hold out hope for what these guys might do outside the IP pool given Jigsaw was likely an opportunity they couldn't (financially) turn down. And so, in what feels like their true follow-up to their highly underrated and underseen 2014 time travel flick, Predestination, the brothers Spierig take on the real life mysteries likely still held within the walls of the winding Winchester mansion that is located in San Jose, California and was constantly under construction by the widowed Sarah Winchester for thirty-eight consecutive years until her death in 1922. Weird, right? Definitely. Couple this unique spin on the haunted house premise with the fact the Spierig's have somehow managed to attract the talents of rather pedigreed actors like Jason Clarke and the indelible Helen Mirren and one has to wonder what the attraction was. The Spierig's also reunite with Predestination star Sarah Snook here, but Snook is unfortunately underutilized as Mrs. Winchester's niece who has recently moved into the ever-growing mansion with her son after the death of her husband. This is all to say that Winchester has plenty of potential and while it never fully capitalizes on the ample opportunity it has to transcend the genre trappings and become something of a more self-conscious and timeless work it is a solid and sometimes even surprising haunted house tale that uses the audiences expectations to its advantage and takes certain elements in directions that feel fertile. The Spierig's screenplay, in collaboration with Tom Vaughan, relies too heavily on jump scares to garner the necessary reactions for being a member of the horror genre, but even still-they serve their purpose more often than not. Resorting to these easy, cheap scares feels a way of accounting for a requirement the Spierig's weren't really interested in though, as Winchester is seemingly more inclined to explore how cruelty, grief, and loss can affect people in different ways and to varying degrees. If the Spierig's had figured out a more inherently haunting way to convey their tone and the actions of those supposedly trapped souls in the rooms of the titular mansion this might have been a more convincing study on such topics, but as it is the film comes and goes with more simplicity than it does depth or scares. read the whole review at www.reviewsfromabed.com
Philip Price
Super Reviewer
Winchester Quotes
There are no approved quotes yet for this movie.