Withnail and I
(1987)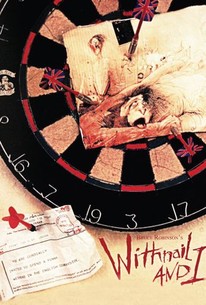 Movie Info
Screenwriter Bruce Robinson made his directorial debut with this British comedy. Withnail (Richard E. Grant) is an unsuccessful, pill-popping actor; "I," or Marwood (Paul McGann), is Withnail's roommate and another equally underemployed actor. The time is 1969: Withnail is fast becoming a burned-out relic of the '60s, while Marwood is trying to reassimilate into society. The two take a trip to the country in hopes of rejuvenating themselves, but things go from worse to even worse. Given the intimacy and insight of the screenplay and dialogue, one shouldn't be surprised that Bruce Robinson (who adapted the film from his own novel) based Withnail & I on his own experiences. The film proves that certain "Age of Aquarius" types were just as bollixed-up in Britain as they were in America.
People Who Like this movie also like
News & Interviews for Withnail and I
Critic Reviews for Withnail and I
Audience Reviews for Withnail and I
Utter hogwash from start to finish.
Jack Hawkins
Super Reviewer
½
Hilarious performances from Richard E. Grant, Richard Griffiths and Ralph Brown.
Graham Jones
Super Reviewer
Withnail and I is set in an old, run down student flat in London's Camden Town at the end of the 1960's. Withnail and I are a couple of unemployed actors from different ends of the social spectrum. Withnail is a Harrow educated dilettante, and rather upper crust; his flatmate Marwood is a grammar school boy with a slightly more realistic outlook on life. To escape from the squalor of their grim, unemployed, existence in Camden Town, soaked in a near lethal cocktail of alcohol and drugs, the desperate pair call upon the generosity of Withnail's uncle Montague and secure the use of his cottage in the country for a weekend. Uncle Monty is an eccentric middle-aged homosexual, who prefers vegetables to flowers. He considers that 'flowers are essentially tarts - prostitutes for the bees', and wears a radish in his buttonhole in preference to a flower. He grows vegetables in pots in his Chelsea house, and makes suggestive references to 'firm young carrots'. Withnail (excellently played by Richard E. Grant), persuades Uncle Monty (a superb Richard Griffiths) to lend Marwood (a convincing Paul McGann) and him his cottage in the country for the weekend. Their exploits at the cottage, and in Penrith where they spend their Wellington boot money on booze and try to sober up in a gentile tearoom are memorable, witty and entertaining. The incongruous uncle Monty reciting Baudelaire in the Cumbrian hills, seeking carnal knowledge of Marwood (apparently coerced by the cowardly and treacherous Withnail), are testament to the writing skills and humour of author and director, Bruce Robinson. The film's soundtrack brings us 'A Whiter Shade of Pale', played by King Curtis on the Saxophone, 'My Friend' and 'Walk hand in Hand', performed by Charlie Kunz, 'Schubert's Piano Sonata in B Flat Major' performed by Leslie Pearson, 'All Along the Watchtower' and 'Voodoo Chile', by Jimi Hendrix, 'Hang Out the Stars in Indiana', performed by Al Bowlly, and 'While My Guitar Gently Weeps', by the late lamented George Harrison, who provided much of the financial backing for this memorable film. This is a thoroughly entertaining 108 minutes of humorous entertainment, a few too many drinks, a convincing 60's atmosphere, superb performances from the excellent cast, and music to make your heart, and your guitar, gently weep. Thank you, George Harrison.
Cassandra Maples
Super Reviewer
Withnail and I Quotes
| | |
| --- | --- |
| Peter Marwood ("I"): | We want the finest wines available to humanity! We want them here and we want them now! |
| | |
| --- | --- |
| Monty: | (to the cat) you beastly little parasite how dare you, you little thug how dare you, arrgh beastly ungrateful little swine. |
| Monty: | [to the cat] you beastly little parasite how dare you, you little thug how dare you, arrgh beastly ungrateful little swine. |
| | |
| --- | --- |
| Withnail: | I feel like a pig shat in my head. |
| | |
| --- | --- |
| Danny: | I don't advise a haircut, man. All hairdressers are in the employment of the government. Hairs are your aerials. They pick up signals from the cosmos, and transmit them directly into you brain! This is the reason bald-headed men are uptight. |