Women in Love
(1969)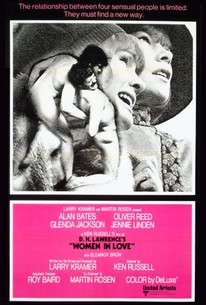 Movie Info
Two sisters are courted by two very different men in the D. H. Lawrence classic Women In Love. Gudren (Glenda Jackson) is pursued by Gerald (Oliver Reed) a tough coal miner, while sister Ursula (Jenny Linden) is wooed by the school inspector Rupert (Alan Bates). One couple enters into the union with timidity but their love endures with time. The other couple engages in a frenzied, lustful flesh feast eventually ending in tragedy. Both couples honeymoon together as love takes it's often rocky course. Hints of homosexuality arise when Gerald and Rupert have a wrestling match in their underwear. The act is implied rather than graphic There are the obligatory nude scenes that many films from this year seem compelled to present. Ken Russell won an Oscar for Best Director while Glenda Jackson won the Best Actress Award for her sublimely subdued performance.
Critic Reviews for Women in Love
Audience Reviews for Women in Love
A gathering of couples turns sour when one couple drowns. If I ever come up with a philosophical manifesto or some revolutionary paradigm, then I hope that I can find someone like D.H. Lawrence to dramatize my philosophical precepts with the degree of felicity and verve that Lawrence treats Freud. The "death drive," the relationship between sexuality and violence, repressed emotions, latent homosexuality, and projection of childhood trauma all receive due attention. It's impossible to understand anything going on in this film without a working understanding of Freudian philosophy and psychology, and therein lies the film's primary strength and weakness. On the one hand, it's great to see a smart film for smart people, but on the other hand, it shouldn't be necessary that one study Freud in order to "get it." What is more, to paraphrase Hamlet there is more in heaven and earth, Mr. Freud, than is dreamt of in your philosophy. The actors all commit to their roles, often with full nudity, which was controversial for the film's time, and it must be difficult to convey a character based more on a psychological profile than on human actions. Overall, Women in Love is a strong film, but it's not for everyone.
Jim Hunter
Super Reviewer
½
Russel had me right up until he had Alan Bates and Oliver Reed engage in naked wrestling. A wonderful film in spite of its homoerotic lapses.
Randy Tippy
Super Reviewer
½
An all around good film. Cast - Story - Cinematography.
Women in Love Quotes
There are no approved quotes yet for this movie.