Wonderful, Horrible Life of Leni Riefenstahl
(1993)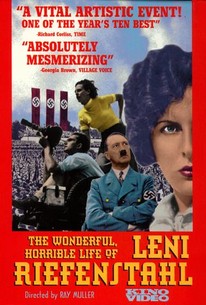 Wonderful, Horrible Life of Leni Riefenstahl Photos
Movie Info
In the 1930s, Leni Riefenstahl was arguably the most important and accomplished female filmmaker of her generation; however, since her primary sponsor was Adolf Hitler, and her best-known work was a hagiographic documentary on the 1934 Nazi Party congress entitled Triumph of the Will, a long and unending debate has raged whether Riefenstahl was a fascist propagandist or a talented artist whose crime was merely doing a job too well. Macht der Bilder: Leni Riefenstahl is an exhaustive two-part look at Riefenstahl's life and work, exploring her early careers as a dancer and actress, reconstructing the making of Triumph of the Will and Olympia (an elaborate and visually striking record of the 1936 Berlin Olympic Games), and her later success as a still photographer, cultural anthropologist, and underwater filmmaker. While the film was made with Riefenstahl's participation, director Ray Muller does not shrink from exploring both sides of the issues of her work with the Nazi regime (she claims to have never been a member of the party and to have been unaware of the genocide of Jews and other "undesirables," while Muller presents evidence that strongly suggests the contrary) even as it celebrates her accomplishments and fierce determination (as a girl she could climb mountains in her bare feet, and in her nineties she was still an avid scuba diver). Macht der Bilder: Leni Riefenstahl was released in the United States under the title The Wonderful, Horrible Life of Leni Riefenstahl.
Critic Reviews for Wonderful, Horrible Life of Leni Riefenstahl
Audience Reviews for Wonderful, Horrible Life of Leni Riefenstahl
½
Overlong but fascinating documentary about this remarkable filmmaker who mastered her techniques better than many directors, yet not only was limited as an artist (in terms of ideals) but also spent her life denying her guilt for collaborating with a genocidal regime.
Carlos Magalhães
Super Reviewer
If you've never seen this do yourself a favor and take a "PBS moment" and explore the power of the camera and it's application in manipulating human emotions. Especailly during an election season. Art meets politics and the discussions of Leni's degrees of involvement are not answered with this film, but she poses and interesting question at one point should an artist or thier work be held accountable for it's poilitcal/ cultural impact? Do they have a responcibility to society? While the answer might depend upon circumstances I think Japanese filmmaker Kenji Mizoguchi who in the same era being forced by the military to make propoganda entertainment films delivered some of the most "bland" films ever made as an act of passive resistence. Not allowing his art to be used by others for ill purposes. The 47 Ronin is one of the most static films ever made.
Bobby Diablo
½
The juxtaposition of Riefenstahl's undeniable brilliance as an artist with the inescapable fact of her ideological rationalization. My impulse to somehow give her the benefit of the doubt is shot down by the occasional absurdities in her excuses for herself. Not entirely fairly, Leni Riefenstahl has become my mind's poster child for her generation of Germans.
Derek Wood
Wonderful, Horrible Life of Leni Riefenstahl Quotes
There are no approved quotes yet for this movie.
Discussion Forum
Discuss Wonderful, Horrible Life of Leni Riefenstahl on our Movie forum!