Wonderful Town
(2007)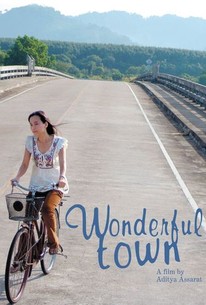 Movie Info
"Wonderful Town" is a fictional story set against a real-life background. Aditya Assarat's feature debut takes place in Takua Pa, a coastal area in southern Thailand that lost more than 8,000 habitants when the Asian Tsunami struck in late 2004. Caused by a 9.3 magnitude Indian Ocean earthquake on Dec. 26, this natural disaster affected 15 countries across the globe and was responsible for the death of over 225,000 people. Three years later, Takua Pa, once the site of a thriving community, still struggles with this collective trauma. And, amidst the city's reconstruction, an architect mysteriously arrives from the cosmopolitan Bangkok. Ton, the only person from his firm willing to re-locate to this desolate place, comes to supervise one of the city's many construction sites. As he looks for a place to live, he meets Na. As such, to view "Wonderful Town" as a reaction to the Tsunami is perhaps to miss the film's larger point. Here, this traumatic natural disaster also functions as a point of departure for the film's assertions about the relationship--and many parallels--between humans and the so-called natural world.
Critic Reviews for Wonderful Town
Audience Reviews for Wonderful Town
Wonderful Town is set in a Thai village that was devastated by the 2004 Tsunami. A young architect is sent to oversee the rebuilding effort that has started in the village. He soon falls in love with a local girl. The film is slow and thoughtful. It builds upon the romance whilst looking at it from a distance. Both parties are very cautious about getting close to each other. The locals soon disapprove of the relationship, it upsets the balance and releases pent up anger from the community that perhaps feels abandoned. The ending is shocking and even sickening. It comes suddenly, as such an act would. Wonderful Town is a bit to thoughtful for it's own good. There's a great story and some fascinating themes here, but first it makes us sit through a generic love story, one that takes up too much screen time.
Luke Baldock
Super Reviewer
Wonderful Town Quotes
There are no approved quotes yet for this movie.