Wool 100%
(2007)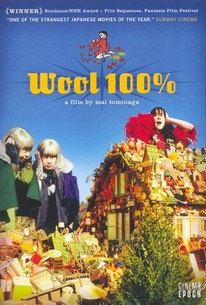 Movie Info
A pair of elderly junk collectors find their lives turned upside down when their latest procurement brings them into contact with an obsessive young knitter in the hallucinogenic feature debut of prominent short filmmaker Mai Tominaga. Ume (Kyoko Kishida) and Kame (Kazuko Yoshiyuki) troll the streets in search of cast-off treasures, and upon finding multiple balls of red wool the sisters eagerly add them to their collection. Though their latest acquisition seems to be one worth celebrating, their happiness over the find is soon offset by the arrival of a disturbed young woman (Ayu Kitaura) determined to kit the perfect red sweater.
Critic Reviews for Wool 100%
Audience Reviews for Wool 100%
A weird one. Two old Japanese sisters collect special (to them) unwanted things from the town and store them in their bursting-at-the-seams mansion and then draw coloured pictures of them. One day they find they've inadvertently also brought home a wild and noisy knitting girl (called Knit-Again) who starts unravelling their neat and orderly lives. A little like Angela Carter with her feminist subversions of fairy stories, and a little like Hausu for being so strange. And a little like nothing I've seen before. The plot is cryptic and light as a feather, so you may get bored waiting for an exposition that never comes, or you may, like me, just enjoy the journey and the uniqueness of the whole thing. Highly recommended.
What is it with Japanese films being ridiculous? You don't ever see films like this in Hollywood. That is probably because Hollywood would never let it hit the big screen.
You better read the plot before watching this because a lot of this film will not make sense. In the back of your mind you really feel as if there is some great concept and meaning to the story, but unless you dig down deep enough, or you know the director personally, you will not be able to figure it out. It is a shame really, since the animated introduction does a good job at getting you rolling with the film. As the movie moves forward you also get the feeling that multiple stories are being told at once.
On another note, more then half of this film deals with only 3 characters and all 3 of them have little dialogue. In fact, this entire movie has little dialogue. So this a movie with little dialogue that is really confusing, yet I still consider it better than average.
It is the directing that really saves this film. Director, Mai Tominaga, shows her genius with her first feature length picture. It really does look like EVERY SINGLE SHOT is thoroughly thought out. The films uses some CG effects and the transitions from real life to these animations are smooth. The film also employs a catchy jazzy soundtrack and some nice sounds. Ayu Kitaura's amplified voice sounds awesome. "Damn. I have to knit it all over again!"
The acting is great, and I can guess we can thank the directing for that. As I mentioned before, the characters do have very little lines, but that barely hurts this film.
There is just something about this flick that keeps you watching. If only the story made more sense.
Wool 100% Quotes
There are no approved quotes yet for this movie.