Yellow Sky
(1948)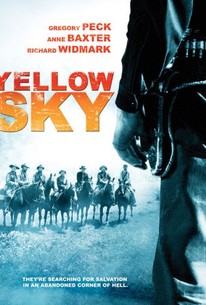 AUDIENCE SCORE
Critic Consensus: No consensus yet.
Movie Info
William Wellman's westerns always seemed a little claustrophobic, but in Yellow Sky the director's technique works to the film's advantage. Outlaw leader Gregory Peck takes refuge in a frontier ghost town. The only inhabitants are elderly James Barton and his pretty granddaughter Anne Baxter. Barton reveals that there's gold hereabouts, prompting a few of Peck's companions--especially Richard Widmark--to plot the old man's demise and claim the treasure for themselves. For his part, Peck is basically honorable, and offers to split fifty-fifty with Barton. Dissension, hostility and gunplay ensue, finally narrowing down to a standoff between Peck and Widmark. Yellow Sky was based on a novel by W.R. Burnett, who moved from westerns to gangster stories and back again with the greatest of ease. ~ Hal Erickson, Rovi
Rating:
NR
Genre:
, ,
Directed By:
Written By:
In Theaters:
On DVD:
Runtime:
Studio:
20th Century Fox Film Corporation
Critic Reviews for Yellow Sky
All Critics (3) | Top Critics (1) | Fresh (3) | Rotten (0) | DVD (3)
For seventy-odd minutes, in this scorcher from Twentieth Century-Fox, the guns blaze, fists fly and passions tangle in the best realistic Western style.

New York Times
Top Critic

This superior western is marked by an outstanding performance by Gregory Peck.

Ozus' World Movie Reviews
Audience Reviews for Yellow Sky
Slow paced Western about greed and men being men ie after women. Pure drama this one. Gregory Peck is a villain and Richard Widmark his villain sidekick. The title Yellow Sky could refer to gold or the sun filled sky always present except at night (of course). This is the age old quest for gold and how it divides a gang of thieves. Just as divisive almost is Mike, a young tomboy gal who sets the gang to fighting for her. Sweet ending with half the gang riding off ok. [img]http://upload.wikimedia.org/wikipedia/en/thumb/b/b2/Yellow_sky1948.jpg/220px-Yellow_sky1948.jpg[/img] SEE the entire film here: http://www.youtube.com/watch?v=zF2aLyrfSDI The title Yellow Sky comes from the name of the ghost town saloon where our bandits find refuge. After that, it's all about a woman named MIKE. The band of bank robbers seem desperate for female companionship and nearly kill each other for her as much as the possiblity of gold in the hills. [img]http://s3.amazonaws.com/auteurs_production/images/film/yellow-sky/w448/yellow-sky.jpg[/img] Gregory Peck lusts for her "Yellow Sky (1948) is an American western film directed by William A. Wellman. The story is believed to be loosely adapted from William Shakespeare's The Tempest. A band of outlaws flee after a bank robbery and encounter an old man and his granddaughter in a ghost town.'--- wikipedia [img]http://4.bp.blogspot.com/__RpFav124wI/Sd08qfWLhhI/AAAAAAAAAQI/_2VLBohl_-0/s400/peckandbaxter.jpg[/img] Anne Baxter as Mike In 1867, a gang led by James "Stretch" Dawson (Gregory Peck) robs a bank and flees into the desert. Out of water, the outlaws come upon a ghost town called Yellow Sky and its only residents, a hostile young woman named Constance but called "Mike" (Anne Baxter), and her grandfather (played by James Barton). [img]https://encrypted-tbn2.gstatic.com/images?q=tbn:ANd9GcQIRPgSNDbwyrKk0GuXH4fC0giQ3jsIW4mA0tk-MQ52ApKHTpwB[/img] The band of robbers have a whisky NOTES: 1 The western commenced a construction crew of over 150 men and women to build a ghost town in the desert near Lone Pine, California, by demolishing a movie set, called "Last Outpost", that Tom Mix had built in 1923. 2 The studio purchased W. R. Burnett's unpublished novel for $35,000 in November 1947. [img]http://cdn2-b.examiner.com/sites/default/files/styles/article_large/hash/c1/14/c114b1867ecfd4cafc8a7ebedaa83971.jpg?itok=pFwxOO1f[/img] 3 Could be an adaptation from William Shakespeare's The Tempest. REVIEWS by folks like us: 80% Yellow Sky has the makings of a great western. It deals with greed, jealousy, betrayal, and lust. Gregory Peck, Richard Widmark, and Anne Baxter . 60% Typical and overused storyline is heightened by excellent performances all around. Rare film that shows Peck and Widmark in bad guy roles,.... Gregory Peck as James 'Stretch' Dawson Anne Baxter as Constance Mae or 'Mike' Richard Widmark as Dude Robert Arthur as Bull Run John Russell as Lengthy Harry Morgan as Half Pint James Barton as Grandpa Charles Kemper as Walrus Directed by William A. Wellman Produced by Lamar Trotti Written by W.R. Burnett (novel) Lamar Trotti Music by Alfred Newman Cinematography Joseph MacDonald Editing by Harmon Jones Distributed by 20th Century Fox Release date(s) 1948 Running time 98 min. [img]http://fiftieswesterns.files.wordpress.com/2010/09/sanstitre39.jpg[/img]
monsieur rick
unheralded wellman western with gregory peck leading a band of outlaws across death valley to hole up in the ghost town of yellow sky. an excellent variation on the tempest/'forbidden planet' theme with anne baxter as a feisty gunslinger and richard widmark a troublemaking 'dude'. the last 5 minutes kinda sells it out but first rate right up until then
Stella Dallas
Super Reviewer
½
Excellent Western where Gregory Peck plays an Outlaw with a gang who is chased across the salt flats into what appears to be a ghost town where near dying of thirst they come across the beautiful Anne Baxter who plays the granddaughter of a miner. The gang is going to steal all the old mans gold until Peck goes soft for the young lady. All in All a great western and great acting by Peck, 4 1/2 Stars
Bruce Bruce
Super Reviewer
Yellow Sky Quotes
| | |
| --- | --- |
| Stretch: | From now on, stay away from my men and stop swingin' your hips all over the place. |
Discussion Forum
Discuss Yellow Sky on our Movie forum!