Yobi, the Five Tailed Fox (Yeu woo bi)
(2006)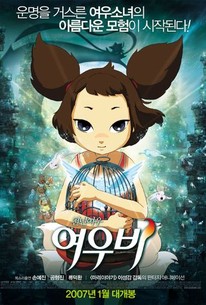 AUDIENCE SCORE
Critic Consensus: No consensus yet.
Movie Info
This fanciful animated adventure tells the story of Yobi, a magical shape-changing fox of Korean legend. Yobi is 100 years old - aged by human standards but just a kid by those of her own species. When aliens crash land in Yobi's woods, she befriends them as they toil to repair their spaceship, but eventually, a group of children discover the creatures and capture one of them. Yobi must pose as a human girl in order to steal her way into the group and rescue her alien friend, but the price of her ruse may eventually mean capturing the soul of someone she loves. ~ Cammila Collar, Rovi
Critic Reviews for Yobi, the Five Tailed Fox (Yeu woo bi)
Audience Reviews for Yobi, the Five Tailed Fox (Yeu woo bi)
The film has some gorgeous animation. It's a mix of with hand-drawn style with some computer animated backgrounds and settings. There's also some shots, mostly of the sky, mountains and lake, that also feels like a watercolor painting. These mix together into a film that is beautiful to look at. I think the characters aren't as well designed, but the movements are really well done too. The problem is, the story is an absolute mess. The story could've been interesting if it focused on the "main" story of Yobi trying to integrate herself into this class and "falling in love" with one of the boys. I think the film doesn't do a great job at taking all the pieces, the aliens, the Shadow man, the fox hunter, the autistic girl who captures one of the aliens, the love story, etc etc and creating a coherent story around these elements. They just jump from scene to scene without rhyme or reason. There are several scenes where I have no idea how they got there, several of them involving the autistic girl. It feels like there are some chunks of the movie missing that would better explain why the autistic girl was outside of the camp after curfew. I suppose it was done to move the story forward, but again it feels like there's a chunk of information missing from these scenes. And you don't really get to know a whole lot about the mythology surrounding this creature. They just go over the basics, she needs to eat the soul of a human to turn into a human herself. So if you were interested in the details surrounding this 9 tailed fox (who really has 5 tails, but for some reason the characters refer to her as 9 tailed) then you're watching the wrong film. I don't think the film is all ineffective, just a large part of it. I do like some of the aspects of this love story, and there is a certain sweetness to the film's climactic act and how Yobi is willing to sacrifice her soul in order to save the boy she loves. I thought that was sweet and well-done. But if I'm gonna be honest, the film is simply all animation with little to no substance as it relates to the story. I wouldn't say that it's bad, it's just that the story is an absolute mess when compared to the gorgeous animation. Still, I enjoyed this movie even with it's flaws and it's a really short film so it was really easy to watch and digest. Nothing I will ever watch again, but I still found it to be a solid movie.
Jesse Ortega
Super Reviewer
This really is a beautiful animation. In fact it is quite breath taking. It rivals even the best of Studio Ghibli's back work. The story is one of many imaginative and creative twists and characters. Aliens, Five tailed foxes, Shadow men etc. The visuals are astonishing in parts. CGI is used sparingly to enhance the 2D animation. It brings it to life in ways I can't remember seeing. The story itself may be typical fantasy, but their is enough truly touching romance, funny sidekicks and dark moments (the opening is essentially a horror) to make this a rare family film that should be treasured by everyone forever and ever.
Luke Baldock
Super Reviewer
Yobi, the Five Tailed Fox (Yeu woo bi) Quotes
There are no approved quotes yet for this movie.