You'll Find Out (Here Come the Boogie Men)
(1940)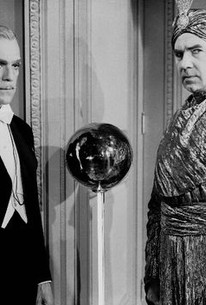 AUDIENCE SCORE
Critic Consensus: No consensus yet.
You'll Find Out (Here Come the Boogie Men) Photos
Movie Info
This film contains the one and only cinematic group appearance by Boris Karloff, Peter Lorre and Bela Lugosi. Essentially a vehicle for bandleader Kay Kyser and his orchestra, the film finds Kyser hired to perform at the 21st birthday party of heiress Janis Bellacrest (Helen Parrish), the sweetheart of Kay's business manager Chuck Deems (Dennis O'Keefe). The party is held at Janis' family mansion, a spooky old joint dominated by astrology-happy Aunt Margo (Alma Kruger). Among the guests stranded in the mansion by inclement weather are mysterious mystic Prince Sallano (Bela Lugosi), family attorney Judge Mainwaring (Boris Karloff) and Professor Fenninger (Peter Lorre). Though advertised as a "mystery", the film throws the whodunit angle out the window at midway point by revealing that Saliano, Mainwaring and Fenninger are in cahoots, planning to kill Janis to get their hands on her inheritance. These sinister goings-on do not impede Kyser's ability to stage several musical numbers, including "The Bad Humor Man", which, according to studio publicity, was supposed to have been performed by Karloff, Lorre and Lugosi. Once the plot is resolved, Kyser utilizes several of Saliano's props-including the then-new "Sonovox" machine and an electronic zapping device-on his radio program, that leads to a closing gag.
Critic Reviews for You'll Find Out (Here Come the Boogie Men)
Audience Reviews for You'll Find Out (Here Come the Boogie Men)
"We would have gotten away with it, if it hadn't been for those crazy band members!" I truly was waiting for that line, because it played out like a Scooby Doo episode. A scary/comedy/whodunit kind of story, with three of the horror greats - Karloff, Lugosi, and Lorre. Fun film for those who appreciate Scooby Doo.
nefnie lee
Super Reviewer
You'll Find Out (Here Come the Boogie Men) Quotes
There are no approved quotes yet for this movie.