Zatoichi Meets the One-Armed Swordsman
(1971)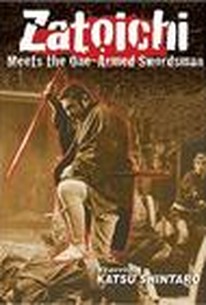 AUDIENCE SCORE
Critic Consensus: No consensus yet.
Movie Info
Blind swordsman and masseur Zatoichi (Shintaro Katsu) does battle with a one-armed swordsman in this exciting installment of the Zatoichi film series. While traveling across the plains of Furukawa, the blind hero comes in contact with a one-armed swordsman, Wang Kang, and a child on the run from a band of bloodthirsty samurai. Taking refuge in their temple, Zatoichi finds himself deep in intrigue and lies as the hunt becomes a clash between the two swordsmen in a bloody fight for their lives. ~ Jeremy Wheeler, Rovi
Critic Reviews for Zatoichi Meets the One-Armed Swordsman
There are no critic reviews yet for Zatoichi Meets the One-Armed Swordsman. Keep checking Rotten Tomatoes for updates!
Audience Reviews for Zatoichi Meets the One-Armed Swordsman
½
In this 22nd Zatoichi film, Zatoichi Meets the One-Armed Swordsman is another great showdown introducing another legendary character who not being able to understand each other, ultimately leads to tragedy. The One-Armed man is played by Yu Wang and his martial artist abilities are a welcome addition as it adds some more variety to the battle sequences. This film must have one of the top body counts, as both Zatoichi and the One-Armed man go on a massive killing spree against all the corrupt samurai and lay waste to everyone who does evil. Ultimately it leads to a final showdown between the two and as Ichi says after the duel "If only we could understand one another's words, we wouldn't of had to fight one another". This film is an extremely violent and blood soaked film with tons of awesome battle scenes and some awesome death shots, it is also a good moral lesson.
Chris Browning
Super Reviewer
½
Zatoichi Meets the One-Armed Swordsman is better than Zatoichi Meets Yojimbo. It doesn't feel the needs to needlessly inflate Wang's role. It adds a new visionary style as Wang's martial arts and fighting skills are very different to those we have seen before. It makes his scenes more exciting and his battle with Zatoichi interesting and unpredictable. Plenty of limb lopping and some emotional investment. The best thing about this film is the confrontation where neither Zatoichi, nor Wang is the villain. It doesn't chicken out from giving us a decent ending either.
Luke Baldock
Super Reviewer
½
On his travels, blind swordsman Zatoichi stumbles across a massacre and takes in a small boy who witnessed the event. When the killers come looking for him, Zatoichi and family friend Wang Kong or "the one-armed swordsman" pledge to defend the child at all costs. Although this installment in the long running franchise has a rather gimmicky premise, its combination of frenetic action scenes and an atmospheric historical setting makes for a good, solid samurai movie. Shintaro Katsu shifts from affable booze hound to intimidating bad ass with the greatest of ease; the scene when he rescues a local girl from the assassins is fantastic. Despite its attempt to ape the master, it's no Kurosawa as technical limitations mean a couple of scenes are so dark it's difficult to tell what's going on and the moral message at the end felt forced. But as a whole it's a very enjoyable blood & katana flick that won't disappoint fans of the genre.
Zatoichi Meets the One-Armed Swordsman Quotes
There are no approved quotes yet for this movie.