Zero Kelvin
(1995)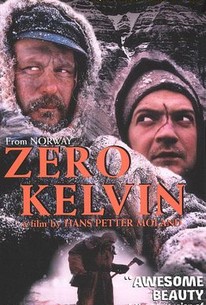 AUDIENCE SCORE
Critic Consensus: No consensus yet.
Movie Info
This Norwegian adventure is as thought-provoking as it is entertaining. The tale is set in 1925 and opens as poet Henrik Larsen proposes to his girl friend Gertrude. Unfortunately, she is not sure she wants to commit to anyone. This hurts, so Larsen, deciding he needs a change, gets a job as a trapper and heads off for Greenland. It is not a welcoming environment for the citified, sensitive Larsen and he gets a lot of ribbing from his rough-hewn veteran trapper companion, Randbaek. Their third companion Holm remains taciturn and aloof from the constant bickering between the other two. Randbaek constantly tests Larsen's toughness both physically and psychologically as they make their way through the unforgiving frozen wasteland, but Larsen is much tougher than he seems. Still Randbaek's violence does not abate and the situation comes to a head on Christmas Eve. After a scuffle, Randbaek tries to apologize, but Larsen strongly refuses to accept it causing the quiet Holm to finally explode and leave the two to their bickering in disgust. As their cabin recently went up in flames, the two rivals find themselves forced to get along in order to find Holm and make it back to safety. Unfortunately, the situation proves too volatile and tragedy ensues.
Critic Reviews for Zero Kelvin
Audience Reviews for Zero Kelvin
[font=Century Gothic]In "Zero Kelvin," Randbaek(Stellan Skarsgard) is the foreman at a remote post in Greenland in the 1920's; the only other inhabitant being Holm(Bjorn Sundquist), a sharpshooting scientist. Randbaek is under great pressure to produce pelts for The Company and is angry that the quota for the following year has been doubled. He is furious that the new man he requested, Henrik(Gard B. Eidsvold), turns out to be a soft-looking poet and writer. Henrik has something to prove, not only to himself but also to his girlfriend, Gertrude(Camilla Martens).[/font] [font=Century Gothic][/font] [font=Century Gothic]"Zero Kelvin" is an interesting look at masculinity that regretfully makes its points through talk rather than action. It does not help that the focus is on Henrik, rather on the more interesting Randbaek. Also up for discussion, is how much human company and love a person needs. Of course, no man is an island but that does not mean there is anything wrong in finding a nice, solitary place for oneself in the world.[/font]
Zero Kelvin Quotes
There are no approved quotes yet for this movie.