Zhaibian (The Heirloom)
(2004)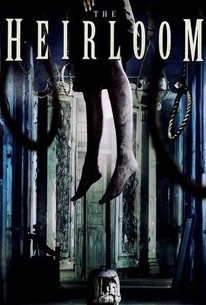 AUDIENCE SCORE
Critic Consensus: No consensus yet.
Zhaibian (The Heirloom) Photos
Movie Info
In the tradition of The Amityville Horror, The Changeling, and Poltergeist, the Chinese horror picture The Heirloom concerns a possessed mansion with an evil past. Twenty years prior to the outset of the story, the members of the Yang family -- all multimillionaires -- hung themselves at the same instant, suggesting influence by malevolent spirits or demons. One family member emerged from this pit of fire alive. When a familial descendant inherits the property, and moves in with his betrothed, all hell literally breaks loose. The spirits of the Yangs -- now bent on fury -- threaten to tear the man and his fiancée limb from limb and force the new master of the house to turn his gaze inward and face the evil that lingers in his own heart. ~ Nathan Southern, Rovi
Critic Reviews for Zhaibian (The Heirloom)
Audience Reviews for Zhaibian (The Heirloom)
½
Nothing new here...acting is so-so by so-so actors, the plot rather pedestrian and the camera work apparently done by those afflicted with ADD...scenes jump around..characters just appear with no recollection of how they got there...blame the scriptwriters and the Director for this mumbo-jumbo mess I guess. When the viewer spends more time trying to figure out why something has happened instead of experiencing it...the movie has lost me and my patience..
This film has interesting ideas drawing on asian folklore, and is very beautiful to look at (especially the main house set, fix the leaks and I'd move in like a shot) but while I could bear the slow pace at the begining due to building the atmosphere, it never seemed to pick itself up to make itself special to the viewer.
Zhaibian (The Heirloom) Quotes
There are no approved quotes yet for this movie.