Zone Troopers
(1985)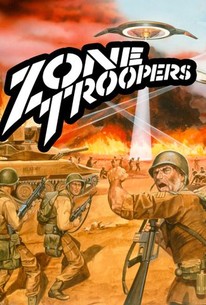 AUDIENCE SCORE
Critic Consensus: No consensus yet.
Movie Info
In this film, a group of American soldiers, led by Sgt. Patrick Stone (Tim Thomerson), find themselves trapped behind enemy lines during World War II. However, when the soldiers stumble across a downed alien spaceship, they enlist some otherworldly help in their struggle to defeat the Nazis.
Critic Reviews for Zone Troopers
Audience Reviews for Zone Troopers
Zone Troopers is a movie that I'm glad I got to watch but that's about it.Watching it once was enough for me.The entire time I was thinking I'd like to see the aliens fighting along side the Americans against the Nazis & it does happen but when it does, there's less than 10 minutes left in the movie so it was like when you wait awhile for something to happen, only to think after it's over, I wasted all this time, just for that??? The aliens lazer guns, ray guns, whatever you want to call them were weak looking.When they shot them at the Germans & the Germans vanished into thin air, it was weak as well.I don't know what I was expecting but even for a low budget movie I expected something better.Not all of the movie was bad though.There were alot of times where I either laughed out loud or chuckled.I didn't HATE Zone Troopers but I wasn't all that into it as much as I expected to be either.When I read the description I thought this movie is going to be AWESOME & after watching it, I'm just sitting here like....... It did have a 1950's Sci Fi vibe to it for a movie made in the 80's which I think was pretty cool (Maybe that's why the lazer/ray guns effects were so weak.It was done on purpose to give it that 50's Sci Fi effect.I might have to give it a 2nd look someday) Even though I wasn't all that into it, I'd recommend checking it out if you were thinking about watching it.It's worth checking out at least once
Brody Manson
Super Reviewer
More B-movie fluff for Tim Thomerson to revel in, this time he's behind enemy lines in WWII but his squad gets wiped out, on top of that he must content with an alien that has crashed its ship in the area. Excellent film title which really gives you high hopes for a rockin flick and to a degree you do get a pretty decent action film with lots of gun action and Nazi blasting. The first half of the film isn't too bad and along the lines of the 'Dirty Dozen' minus the better acting skills and top cast of course. As the alien comes into the plot the film still manages to hold its own but towards the end of the story we meet more aliens which look suspiciously like humans with white hair in rather campy outfits. This is where things start to get a bit Flash Gordon looking with crappy ray guns, bad outfits and a dodgy looking spacecraft. Shame really as the first crashed spaceship looked quite good and the stranded alien actually had a decent mask plus a look not far too from something you might see in the Mos Eisley space cantina in 'Star Wars' (the aliens we meet towards the end are male and different from the stranded alien which is female). Very basic but fairly fun and amusing how no one ever seems to be that shocked to find visitors from outer space.
Phil Hubbs
Super Reviewer
Danny Bilson likes to take fantasy and Sci-Fi elements and throw them into unexpected places. Case in point, two of his films Zone Troopers and The Rocketeer each feature the protagonist(s) in an epic battle against the Nazi's during World War II. Zone Troopers tells the story of a group of rag-tag soldiers trekking through Italy in 1944. Led by a hard-ass Sergeant, the three men find themselves behind enemy lines. Little do they know, the area is crawling with Nazi's who are there searching for the crew of a downed UFO which crashed in the area. This film is a lot of fun to watch! Yes, it is cheesy but these types of movies are meant for the sole purpose of entertaining an audience and with the talent both behind and in front of the camera Zone Troopers does this and much more.
Jason Reneau
Super Reviewer
Zone Troopers Quotes
There are no approved quotes yet for this movie.