Stealing From Saturn
EPISODE: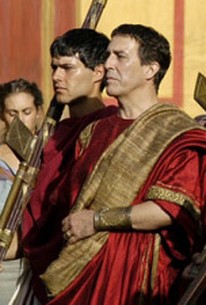 Episode Info
Pompey (Kenneth Cranham) and the senators who fled Rome get dreadful news about their war chest, and Pompey sends his son Quintus (Rick Warden) out to find the scouts who found the gold. Back in Rome, Caesar (Ciarán Hinds) is short on funds, and has instituted martial law in order to keep the peace. Atia (Polly Walker) is holding a dinner in his honor, and is unhappy to see Servilia (Lindsay Duncan) on Caesar's guest list. Vorenus (Kevin McKidd) prepares an expensive feast in honor of the god Janus to inaugurate his merchant business. He rejects Mark Antony's (James Purefoy) generous offer to make him a prefect, preferring civilian life to participation in Caesar's campaign, which Vorenus sees as blasphemous. But things get rocky at the feast when his sister-in-law, Lyde (Esther Hall), arrives with her husband, Evander (Enzo Cilenti). Lyde, jealous over her husband's apparent continued passion for Niobe (Indira Varma), gets drunk and makes an embarrassing scene. At Atia's dinner, Caesar, who has asked for an augury at Jupiter's temple, to show Rome's citizen's that the gods favor his actions, takes the opportunity to offer the chief augur (Roger Hammond) a bribe in the guise of a late birthday gift for his wife. Back at Vorenus' home, things get worse after the party when Quintus shows up with some men, threatening Vorenus and Niobe and demanding to know where the stolen gold is. Vorenus has no idea what he's talking about until Pullo (Ray Stevenson) arrives, throwing money around, and the two get the better of Quintus. Vorenus finds out about the cart full of gold and orders Pullo to deliver it to Caesar. Caesar, meanwhile, sends Pompey and the Senate an offer of truce.
Discussion Forum
Discuss Rome on our TV talk forum!